Wabash Ready to Run as a Team at Nationals
by Brent Harris • November 15, 2012

Share: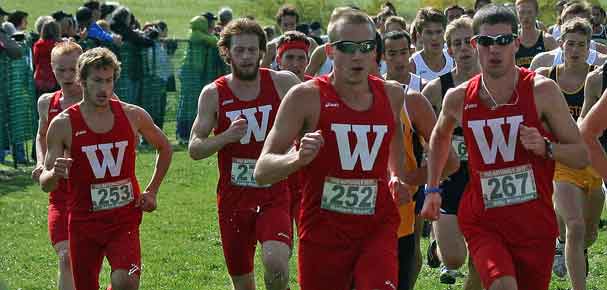 The Wabash College cross country team will make the short trip to Terre Haute, Indiana Friday afternoon to prepare for Saturday's NCAA Division III Cross Country Championships. The drive may only take a couple of hours, but the preparation has taken at least three years.
The Little Giants return to national championship meet for the third consecutive season — the second longest streak in Wabash history since qualifying for nationals every year from 1991-1996. Two years ago Wabash placed 13th with help from an All-American 20th-place individual performance by Seth Einterz '11. Last year's team took 16th place with Kevin McCarthy finishing in sixth place individually to earn All-America honors.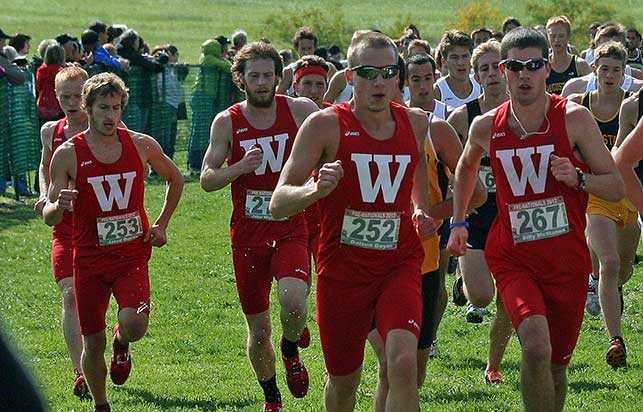 The approach this year will be to run as a group minus a single dominant runner. The Little Giants were able to do that at last weekend's Great Lakes Regional meet. Four Wabash runners earned All-Regional honors. Shane Hoerbert was the top finisher, crossing the line in 10th place. Dalton Boyer finished 16th to earn All-Region honors for the second consecutive season. He was joined on the All-Region team by Billy McManus (22nd place) and Nick Boyce (27th place).
"Our depth has been crucial this season," Hoerbert said. "We are different from the 2010 and 2011 teams because there were key individuals that could carry the squad. We are more of a group that's capable of running together. If we do that on a given day, who knows what we can do.
"I think this trip to nationals provides a key to our next two seasons. Saturday we can prove that we are just as good as the past two teams that had great athletes like Kevin McCarthy and Brian David. Now going forward we can do just as well if not better because those athletes have helped the entire team strive for excellence."
Senior Jake Waterman is no stranger to national competition. The 2012 national champion in the outdoor 800-meter run and two-time national runner-up in the 800 indoor race finished 36th last weekend at the cross country regionals. He believes this group of Wabash runners can work together and draw upon its experience from past races.
"Coach Busch has talked all season long about running together as a team to maximize our efforts," Waterman said. "We know each other as runners, how each of us will run and where we will be at different points in the race.
"We don't have a guaranteed All-American on this team. Every person is going to be important on Saturday. We need to run smart and not get caught up in the pack. Knowing the course will help, as will having the experience of competing at national in prior seasons."
"I think we will be a little less nervous than we were last year entering the national meet for the first time," Boyce added. "We'll be ready for it mentally, and that's really important. We'll be able to relax more this year."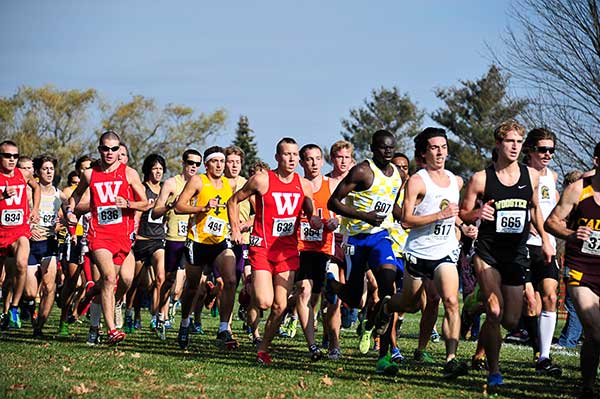 The Little Giants finished second last week behind Calvin College at the Great Lake Regional championships. Wabash has been placed as high as 17th in the U.S. Track and Field and Cross Country Coaches Association rankings this season, but head into this week's nationals ranked 27th after a second-place finish at the North Coast Athletic Conference championship meet three weeks ago.
McManus, who ran his best time of the 2011 season at the nationals, knows he and the rest of his teammates can draw from their experience to finish high in the standings again on Saturday.
"A lot of us have higher goals than last season," McManus said. "Coming in as freshmen, we really didn't know what the race would be like. It was a great experience. Now having that under our belts and having seen it before we have a better idea of where we need to be throughout the race. Hopefully we can move up from last year's finish."
Hoerbert, McManus, Boyce, Boyer, Waterman, Jake Ponton, Daniel Hoover, and Jared Burris have all been under 26 minutes in 8000-meter races this season. Two races this season have taken place at the Lavern Gibson Cross Country Course in Terre Haute where Saturday's race will be held, giving the Little Giants a possible edge over other teams.
"The experience we have on this course is a crucial component," Hoerbert said. "We trained with our long run there last weekend, and a lot of us have competed on that course in high school and in several collegiate meets. That gives us a lot of confidence going into the national meet."
The men's championship begins at 11 a.m. on Saturday.