First Time Players Absorb Atmosphere
by Jocelyn Hopkinson '15 • November 10, 2012

Share: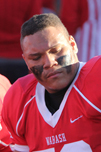 The 2013 senior class capped off its perfect Monon Bell game record Saturday, 4-0, when Wabash defeated DePauw, 23-0. Inexperienced Little Giants were just as important in the win.
Junior transfer-student Jon Laird and freshmen Tyler McCullen, Justin Woods, and Tre Taylor played key roles.
"This game is definitely eye opening," Taylor said. "I started getting excited for this game when the bleachers started going up."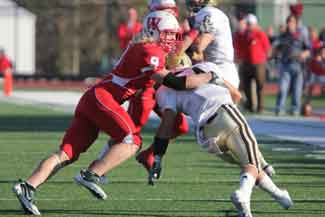 Close to 9,000 fans—roughly three-quarters of which were Wabash—witnessed the young men in their first Bell game. Woods, a starting safety and kick returner, played at a largely-populated high school so the large crowd didn't make him too nervous. His biggest fear was that the Wabash crowd wouldn't be big enough.
"Guys told me the game sells out every year but I kept seeing all the e-mails selling tickets," he said. "I was worried there wouldn't be many Wabash fans here but there was and they were great all game."
Fans at Hollett Little Giant Stadium were not the only ones to witness the game. AXS TV (formerly HD Net) broadcasted the game nationwide with Matt Hudson '10 reporting from the sideline. Television gave Wabash players another change from routine.
"The TV timeouts made it feel like we were standing there for five minutes waiting on the referee to allow us to play," Taylor said. "We had some extra rest but it was frustrating to have the play ready and not be able to go out and run it."
The TV timeouts were not the only obstacle first-time players had to overcome. The build-up during Bell week showed players how important the game is. Laird and McCullen were uncertain what to expect during Saturday's big game.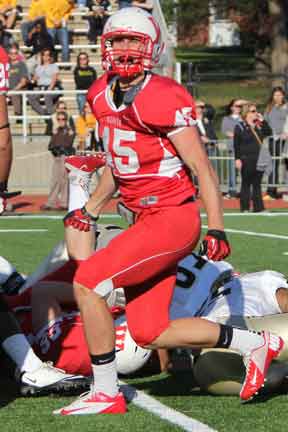 "When I looked out my window [in college hall] this morning and saw all those people out there, it really hit me," Laird said. "The butterflies were there all the way up to the first play. After that, it was just another game and I calmed down a little bit."
McCullen, an Arizona native, was also taken by the game atmosphere. "It's obviously a bigger game so there are more nerves. It took about a quarter to settle down but after that I was good to go."
The freshman settled into a 3-tackle effort on the day; 1.5 tackles went for a loss. All four of the first-time Bell game players stepped up. Woods led the team with 7 tackles while the receiver Laird chipped in with 2 long catches for a total of 67 yards. Taylor rotated at center and helped Wabash pound out 275 rushing yards.
"Seniors made us play hard to day," Taylor said. "We had a great week of practice because of that group. We just wanted to go out there and get the win for them."
"This game set the tone for next season and it's a great way to send the seniors out," McCullen added.
More News
---
---
Related
First Time Players Absorb Atmosphere