Pride on the Line Saturday in Bell Game
by Jim Amidon • November 8, 2012

Share:
The 119th Monon Bell Classic looks like a throw-back game; a game played between arch rivals without playoff or conference title implications.
When Wabash College and DePauw University lock horns on the gridiron Saturday at 1:00 p.m., the only prize will be the coveted Monon Bell. For over 100 years, that 300-pound locomotive's bell was all that mattered when the Little Giants and Tigers clashed in the last game of the season.
For most of a decade, though, one of the two rivals had opportunities to win playoff berths in the NCAA Division III football tournament. In a lot of ways, that took the shine off the brass bell that's served as the winner's trophy since 1932.
Wabash's conference title hopes and playoff berth were dashed a week ago when the Little Giants fell to upset-minded Oberlin — even though Wabash won at Wittenberg and Ohio Wesleyan, two teams in the mix for the North Coast Athletic Conference championship.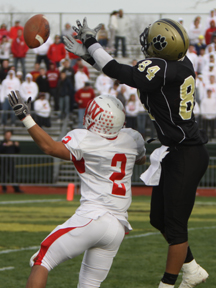 The game will be televised nationally by AXS TV (formerly HDNet) with veteran announcers Kenny Rice and Paul Maguire on the call. Game day ticket sales for both sides of the field will begin at 11:00 a.m. on Saturday morning. A limited number of tickets will be sold at $15 until they are gone.
DePauw, 2-7 on the year after a home loss to Denison last week, has struggled. Scott Srnka stepped in as interim coach in the third week of the year and led the team to wins over Washington University and Wooster; two of the team's losses were by just two points.
The Tigers know their season could be made perfect by knocking off Wabash, 7-2 on the year. Doing so would allow DePauw to reclaim the Monon Bell, which the Little Giants have held for the last three years.
The Little Giant seniors — 17 in all — hope to be the first class since 1979 to graduate having won the Monon Bell Game in all four years. (The Class of 1996 had possession in all four years, going 3-0-1.) Senior captains Austin Hodges, Pat Clegg, Weston Kitley, and Chase Belton know the significance, as does their coach, Erik Raeburn.
"This is a chance to become one of only 10 Wabash senior classes to win the Bell Game all four years," said Raeburn, who will be coaching in his fifth battle for the Bell. "I can't imagine a better football experience than being a part of four Bell Game wins. Our seniors have worked hard over their careers to be in a position to do that. It will take a great effort on Saturday, but it would certainly mean a lot to them and would mean a lot to me."
Last year's Bell Game, won by Wabash 45-7, was closer than the score indicated. Wabash's defense and special teams scored four times. The Tiger defense held Wabash to just 180 yards and only two completed passes.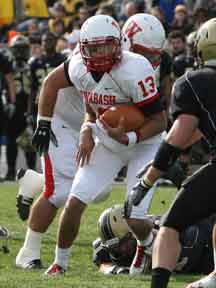 For Wabash to be successful in 2012, it will need to put points on the scoreboard. In its two losses, Wabash struggled for offensive consistency because of turnovers, penalties, and poor execution.
Key for Wabash will be the running game. Led by junior Tyler Holmes, the Little Giants developed a punishing rushing game in mid-season that twice eclipsed 300 yards on the ground. The loss of C.P. Porter to a broken hip in the Wooster game slowed the attack.
Holmes has a shot at a 1,000-yard season (he needs 102 yards) and Belton has proven throughout the year to be a dangerous threat — twice rushing for more than 150 yards in a game. Holmes, a 6-2, 220-pounder, averages 6.3 yards per carry and 128 yards per game. Belton has rushed for 449 yards and eight touchdowns.
Wabash ran the ball effectively against Oberlin, but bad snaps, penalties in the red zone, and two missed field goals doomed the Little Giants.
When Wabash has run well, the passing game has followed. Belton has completed 60 percent of his passes for 1,642 yards and 15 touchdowns. Juniors Sean Hildenbrand (28 receptions, 468 yards, six TDs) and Jon Laird (26-347-3) have been Belton's favorite targets. Two-way threat Houston Hodges is Belton's big-play receiver with 13 catches for an average of 21 yards each and four touchdowns.
The Tiger defense is led by seniors Jack Quinn, Robby Schuler, Myron Burr, and Jake Konovsky. Quinn, a 6-1, 205-pound linebacker, leads the team with 77 tackles and nine tackles for loss. Schuler is the squad's speedy free safety and boasts 64 tackles and two interceptions.
Linemen Michael McManis (4.5 sacks), Patrick Keller (5 sacks), and Konovsky (3.5 sacks) make things difficult for opposing quarterbacks.
"Defensively, they have a really good front line," Raeburn said. "They are very active up front and run a lot of stunts to confuse the offensive line. That will be a real challenge for us to try to run the football and to protect our quarterback on Saturday."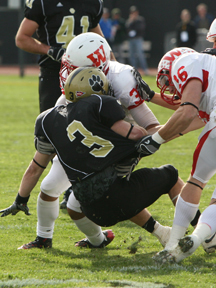 Wabash's defense will have its hands full against a DePauw offense with plenty of firepower at wide receiver, running back, tight end, and on special teams.
The Tigers employ a two-quarterback rotation with freshman Justin Murray and Sophomore Drew Seaman splitting time. Murray has an ability to scramble and run for big gains, while Seaman is a more traditional pocket passer. Together they have combined to throw for more than 2,100 yards and a dozen touchdowns.
Murray has the ability to break long runs from the quarterback spot and has scored twice on the season.
Senior Taylor Wagner and juniors Nikko Sansone and Jackson Kirtley lead the wide receiving corps for DePauw. Wagner and Kirtley each have two touchdowns, while Sansone leads the team with 38 receptions and 399 yards.
Sansone and Wagner are also dangerous return men. Sansone averages 24.4 yards on kickoff returns and 13.8 yards on punt returns. Wagner has a 24.9-yard kickoff return average and an 86-yard touchdown return.
Senior Bobby Coburn is a dangerous tight end that Raeburn describes as a powerful blocker with good hands capable of making big plays. Coburn is fourth on the team with 30 receptions and leads the team with four touchdown catches.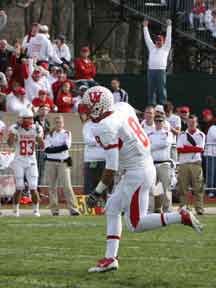 "Their passing game is pretty dangerous, and in the past two weeks our pass defense hasn't been very good. We have to get that corrected against a good offensive team this week," said Raeburn.
Austin Hodges (six interceptions) leads a Wabash secondary that hopes to get senior safety Jonathan Koop back in the lineup. Koop has missed four games with injuries, but has 38 tackles, three interceptions, and a team-best seven pass breakups in just five starts.
DePauw averages just 85 yards on the ground, but junior Armani Cato has a 100-yard game under his belt and leads the team with five rushing touchdowns. Amen Gailey averages a team-high 4.0 yards per carry and has scored once.
Wabash's linebackers have been outstanding all year. Junior Nate Scola leads the team with 84 tackles, while sophomores A.J. Akinribade and Cody Buresh have 78 and 67 stops, respectively. Tackle Pat Clegg has enjoyed a terrific senior season with 48 tackles and 11.5 tackles for loss.
Wabash owns a 56-53 advantage in the series and there have been nine ties. The rivalry is deadlocked at 36-36-9 since the Monon Bell became the trophy in 1932.
| | | |
| --- | --- | --- |
| Statistics | Wabash (7-2) | DePauw (2-7) |
| Scoring Offense | 30.4 ppg | 19.7 ppg |
| Rushing Offense | 202.9 ypg | 85.0 ypg |
| Passing Offense | 203.1 ypg | 232.4 ypg |
| Total Offense | 406.0 ypg | 317.4 ypg |
| Scoring Defense | 14.6 ppg | 30.2 ppg |
| Rushing Defense | 85.3 ypg | 155.3 ypg |
| Passing Defense | 227.6 ypg | 240.2 ypg |
| Total Defense | 312.9 ypg | 395.6 ypg |
| | | |
| --- | --- | --- |
| Statistics | Wabash (7-2) | DePauw (2-7) |
| Punting Ave. | 39.4 | 36.6 |
| Punt Ret. Ave. | 9.9 | 8.6 |
| Kickoff Ret. Ave. | 20.4 | 21.2 |
| Turnover Ratio | +5 | -3 |