Wabash To Face Oberlin for Senior Day
by Brent Harris • November 2, 2012

Share:
The Wabash College (7-1, 4-1) football regular season has dwindled down to just two more home games, starting Saturday against Oberlin College (3-5, 2-3). The senior members of the Little Giant team will be honored prior to kickoff.
Of course, the final home game is "the" game — the 119th Monon Bell Classic against DePauw University — and reminders of it have appeared around campus, such as the extra bleachers going up in Hollett Little Giant Stadium. However, Coach Erik Raeburn isn't concerned about his team looking ahead.
"I don't anticipate us over-looking anybody," he said. "Our guys have done a great job just worrying about this week and getting through this game and trying to find a way to win. After that is when we can worry about who is next."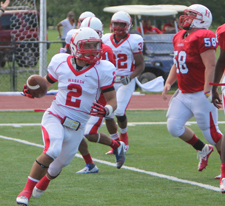 Senior corner back Austin Hodges echoed those thoughts.
"Everyone understands if we don't win this game, we don't make the playoffs," he said. "That's our goal and it starts by beating Oberlin."
Hodges and the rest of the Little Giants have reason to take notice. The upset-minded Yeomen will bring in the NCAC's top defense and have an astonishing 17 seniors starting on either side of the ball.
"They may not have many guys in their program but you only need 11 of them out there at the same time," Raeburn said. "If you have a bunch of seniors on your team then you have a chance to win. Their seniors know how to execute their system and don't make mistakes so it will be a real challenge for us."
Raeburn won't adjust the Wabash offense too much, despite going against the top-ranked defense.
"At this point in the season, we are who we are," Raeburn said. "We're best when we run the football. We have to try and do that, regardless of who we play. If we don't run the ball well, we'll have our hands full."
Junior Tyler Holmes has helped establish the Little Giants' identity. He paced the Little Giant ground game last week with a career-best 210 yards in a 28-0 victory at Ohio Wesleyan. He is the conference's leading rusher despite missing three games with a shoulder injury.
"I thought he ran the ball really well and maybe had his best game as a Little Giant," Raeburn said. "The 67-yard touchdown run was an explosive play for us. But we still need to get guys going behind him so he can get a breather. He had a lot of carries which is a lot of wear and tear on your body."
Oberlin's senior defensive end Clay Eaton is the guy that can derail Wabash's offensive plans. He leads the nation with 19.5 sacks and is third in the nation with 15 tackles for loss. Oberlin will try to confuse Wabash's offense Saturday by moving Eaton around the line of scrimmage. It will be important for the offensive line to know where he is.
"He'll move around the defense and stand up at times," junior right tackle Michael Del Busto said. "If he's standing, it's very likely he'll blitz so we have to ready for it.
"We just need to execute our assignment and wear them down. We had all of our points last week in the second half partly because we wore down Ohio Wesleyan. Oberlin is a team that likes to substitute so we'll try to do more hurry-up offense to keep them from substituting and tire them out."
Offensively, the Yeomen will employ a balanced attack. They arre led by the senior connection of quarterback Josh Mandel and wide receiver Robin Witjes. Witjes leads the conference in receiving yards.
"Their record doesn't show how good they are," sophomore linebacker AJ Akinribade said. "They've had a lot of close games. As a defense, we have to read our keys and fly to the ball. They try to make big pass plays off the play action."
Last season, Wabash's defense held Oberlin to just three points before the Yeomen mounted a second-half comeback to pull within one score of the Little Giants. Akinribade knows it will take four quarters of execution this time around.
"They're a good team but we had them dead in the waters last year when we let up," he said. "They made plays and got back into the game. We have to go out and handle business early and keep the intensity up all game."
If Wabash puts another game together like it has in previous weeks, it will be one game closer to the playoffs and possibly a conference title.
The seniors will be introduced on the field before kickoff along with family and friends each senior chose to escort him as part of the Senior Day festivities. The seniors will also have the most influential man in their life introduced to the football team before the game.
Kickoff will be at 1 p.m. Live video will be available over the Internet at http://www.wabash.edu/live. Jim Amidon '87 and Steve Hoffman '85 will announce the game while Wabash student Clayton Randolph '16 will serve as the sideline reporter.