Kappa Sigmas Pitch In at Pre-School
• October 29, 2012

Share: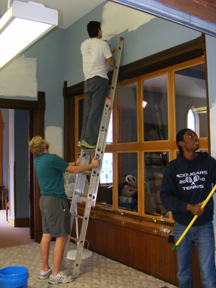 While most Wabash students were just rolling out of bed the last two weekends, men from the Wabash College chapter of Kappa Sigma fraternity were already hard at work.
The Kappa Sigma pledges volunteered at Fuzzy Bear Ministry Preschool and Daycare, a non-profit organization dedicated to the enrichment of children's present and future education in Ladoga.
The Wabash men spent the last two Saturday mornings painting and moving furniture in the preschool, which is located about 10 miles southeast of Crawfordsville.
"Much of their effort has been in painting Fuzzy Bear's new one-year-old room set to open this fall," said organizer Kim McVay. "We're grateful to the students for taking time from their schedules to help renovate our facility."