Harnett to Give LaFollette Lecture
• October 16, 2012

Share: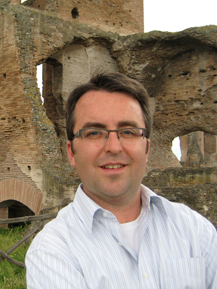 Jeremy Hartnett, Associate Professor of Classics and department chair at Wabash College, will present the 33rd Annual LaFollette Lecture on Friday, October 19 at 4:15 p.m. in Salter Hall in the Fine Arts Center. Dr. Hartnett's lecture title is "Faces Past: Ancient Imaginations and the Craft of Social History."

The LaFollette Lecture Series was established by the Wabash College Board of Trustees to honor Charles D. LaFollette, their longtime colleague on the Board. The lecture is given each year by a Wabash faculty member who is charged to address the relation of his or her special discipline to the humanities, broadly conceived.

Professor Hartnett began teaching at Wabash in 2004 after graduate work at the University of Michigan and a post-doc year at Oberlin College. A specialist in Roman archaeology and social history, he studies (and frequently leads students to) sites around the Bay of Naples, most notably Pompeii and Herculaneum. Hartnett's current book project concentrates on daily life in these cities, especially as it unfolded on their streets. A New Directions Grant from the GLCA has allowed him to study Roman street life in a broader cross-cultural context by examining public urban space in Aztec and contemporary Mexico, Renaissance Florence, pre-industrial China, and modern India. During the 2008-09 academic year Hartnett taught at the Intercollegiate Center for Classical Studies in Rome; he now serves on the Centro's managing committee and is an annual lecturer for the Archaeological Institute of America.

The lecture is free and open to the public; a reception will follow his talk.