Sommer '15 at Home With Wabash Golf
by Scott Morrison '14 • October 11, 2012

Share:
All good athletes feel at home on their own field or court. They have a comfort level while practicing and competing that is irreplaceable. When Sophomore Nick Sommer goes to practice every day at the Crawfordsville Country Club (CCC), he is actually returning the course he has played his entire life.
That advantage is not something many other athletes across the country have. Sommer firmly believes that playing on his home course every day gives him a leg up on the rest of the team. "I feel like I definitely do have an advantage, because I really don't think there's a shot on that course that I haven't had," Sommer said. "I feel I have been all over the place on that course, and I know how to handle every shot so it really is embarrassing when I play badly and yet again it is still exciting when I play well."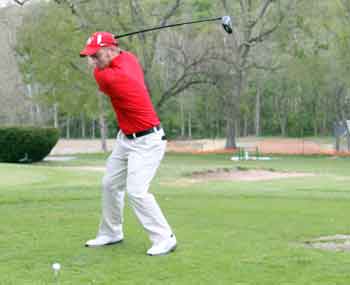 Sommer grew up in Crawfordsville and comes from a long line of golfers. Sommer's cousin was an All-American at Purdue who played on the Nationwide Tour and a few tournaments on the PGA Tour. He also has grandfathers who played golf at Purdue and Indiana University. Sommer picked up the sport 12 years ago after the club pro gave him a rare privilege.
Growing up, Wabash was a big part of Sommer's life. In elementary and middle school he went to Wabash football games and always cheered for the Little Giants. However, during high school Wabash was pushed onto the back burner. Sommer never thought he would end up at his hometown college. He even participated with high school friends making fun of Wabash guys.
"I wanted to get away from Crawfordsville," Sommer said. "Coach Petty contacted me a couple of times with golf, and I kind of put it off and was looking elsewhere. When I got to my senior year, my dad was a big advocate for Wabash and he just kept telling me about it. I kept hearing about Wabash almost to the point that I got annoyed."
Sommer also had an uncle, a great uncle, and two second cousins who attended Wabash urging him to take a look. "They were all giving me phone calls and e-mails, and so that was helpful in the process," Sommer said. "In the end, I knew Wabash was my best choice."
Sommer is now a part of a huge sophomore class on the Little Giant golf team that makes competition for the top five spots very tough. While Sommer relishes that competition, it also frustrates him at times. "Throughout high school and middle school I was always number one or number two and that was a lock – period," Sommer said. "I have never really had to compete to be in the top five growing up, so it is completely different for me. It frustrates me when I don't play well because I don't like playing outside of the top five. But, it motivates me to play better in practices and better in tournaments to break that top five."
He realizes the team has a lot of room for growth. "It is fun because although we haven't exactly showed it yet, we have a really good team and our top seven or eight are all really competitive and all right there," Sommer said. "All of us can go low, but unfortunately most of us can go really high."
Sommer hopes in the offseason he can improve his consistency and eliminate the days of shooting really high numbers. His two best rounds of the year came at the CCC when he fired a 72 against Rose-Hulman and a 73 at the Wabash Classic.

"I am very inconsistent when it comes to golf unfortunately, and the big thing I am going to be working on over the winter is getting a consistent swing down and maybe perfecting a little bit of the mechanics in my swing," Sommer said. "When I come back in the spring my main focus is going to be playing consistent, playing smart, and keeping my range to from like 75 to 82."
Having a home course advantage does add some pressure. As he works for the spring season and conference, Sommer has some goals set for himself and the team. "I set a goal before I came to college to win a tournament and that is still my goal," Sommer said. "As a team I would like for our goal to be to at least finish in the top three in conference, because I know we have that capability and potential. Hopefully we can win it and go to nationals."
This weekend the team will play in the DePauw Invitational at Deer Creek Golf Club.