Steve Martin Comedy Opens Theater Season
by Jim Amidon • October 1, 2012

Share: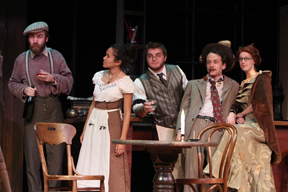 A veteran cast of actors from Wabash College and DePauw University come together for the first Wabash Theater production of 2012-2013 season, a play written by comedian Steve Martin, Picasso at the Lapin Agile.
The play opens Wednesday in Ball Theater with nightly performances at 8 p.m. through Saturday. Tickets are free, but should be reserved through the Box Office.
The play answers the curious question, "What if Pablo Picasso and Albert Einstein met in a bar?"
It's October 1904 in Martin's riotous comedy, when Picasso and Einstein meet in the bar of the Parisian café Lapin Agile.
Both are convinced that they will be the ones who change the course of history — Einstein through his Special Theory of Relativity and Picasso through his art. Along the way, they are challenged by drunks, bartenders, servers, and a surprise guest.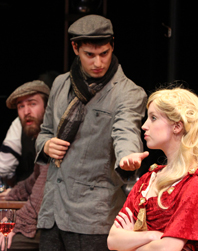 The performances showcase Wabash's most outstanding and seasoned actors, and demonstrate the depth of talent across the College. Starring as Picasso is Raynor Mendoza, while Jake Peacock nails his role as Einstein. They spend the evening in the bar owned by Joe Mount, who plays Freddy and serves up glass after glass to patrons Gaston (played hysterically by James Morey) and Sagot (Chris McCloskey).
Felicia Santiago and Elise Lockwood, actresses from DePauw University, are also outstanding. Santiago plays Germaine, who is the waitress at the Lapin Agile, while Lockwood plays three characters — Suzanne (a blond), The Countess (a red head), and A Female Admirer (a brunette).
Freshman Zachary Canon, whose character Charles Schmendiman thinks his invention of rigid construction materials will change the course of history beyond lesser scientific theories and art, blasts into scene after scene wearing a banana-colored suit with a showman's knack of performance.
Patrick Kvachkoff appears late in a memorable performance as "A Visitor" whose name is never known, but whose presence shakes up the sleepy bar.
"Einstein and Picasso are young men on the verge of the world-shifting ideas that will define both them and the century to come," said Director James Cherry. "They find themselves at a bar, where they debate the meaning of genius, art, science, and love — while contemplating what the future might hold for us all.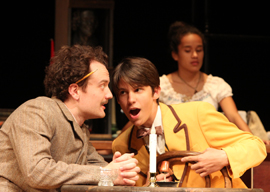 "In a riotous comedy of alternate history, Martin asks us to consider the very nature of our existence, and to discover 'the fundamental end-all, final, not-subject-to-opinion truth, depending on where you're standing.'"
James Gross designed the set, Andrea Bear the costumes, and Laura Glover designed the lighting for the production.
Josh Lutton is the stage manager for Picasso at the Lapin Agile and D.J. Young is the assistant to the director.
Tickets can be reserved by email at boxoffice@wabash.edu or by calling 765-361-6411. The box office is open Monday through Friday from 8:30 a.m. to 12:00 p.m. and 1:30 to 4:00 p.m. and 90 minutes prior to curtain.
More News
---
---
Photo Galleries

Wabash Theater: Picasso at the Lapin Agile