COE: Cavanaugh Establishes Scholarship
by Kim Johnson • August 8, 2012

Share: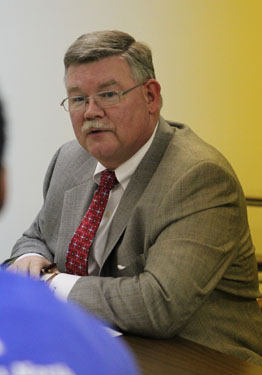 Eric "Rick" Cavanaugh '76 has a long history of giving to Wabash College through the Annual Fund and various capital campaigns. Naturally, he wanted to make a gift to the Challenge of Excellence.
"I received a lot of financial aid when I was a student at Wabash. I feel it is my obligation to help current students be able to attend Wabash in a similar way."
Cavanaugh and his wife, Patti, decided to establish a scholarship through the Challenge of Excellence. It is for students with demonstrated leadership or potential to demonstrate leadership at Wabash or within the community. The recipients will be chosen by the Financial Aid Office.
Cavanaugh calls himself a "Mitch recruit." Bob Mitchum '59, then golf pro at Crooked Stick Golf Club in Carmel, IN, and later Alumni Director at Wabash, leaned heavily on Cavanaugh encouraging him to consider becoming a Little Giant. When Cavanaugh began working at Crooked Stick for Mitchum he found himself among many Wabash men and became more intrigued with the school.
"My dad was convinced I was going to IU. Finally the day before my deposit was due he came to Wabash with me to visit."
The first generation college student was surrounded early with mentors. Thad Seymour was his faculty advisor and Bill Placher led his freshman tutorial. He was also mentored along the way by Don Fobes, Barney Hollet, and Fred Hadley. "I was pushed by them to become a leader on campus and now I encourage students to do the same." Cavanaugh went on to become vice president of the student body and president of the pre-law club.
Cavanaugh, a member of FIJI, continues to talk regularly with young men in the house and across campus about their experiences at Wabash. "I tell them they can make as much of a contribution as they want to make. Whether or not they become leaders in the house, they can still contribute to the house by being active on campus and in the community."
Cavanaugh knows the student experience at the College has the potential to make a huge impact on young men. It did for both him and his brother and perhaps will his own son one day. He hopes his gift eases the financial burden for students for many generations to come.
"Wabash is the most important thing in my life other than family."