Big Bash 2012 Colloquium Talks
• June 1, 2012

Share:
Being from Wabash, Teaching at DePauw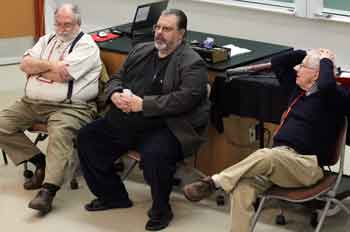 Keith Nightenhelser '72 and Nick Steele '52 took 45 minutes Saturday afternoon to talk about graduating from Wabash but spending most of their careers teaching at the school down 231.
The two shared academic differences between the two schools, class size, and the differences in requirements. Nightehelser surprised few when he declared there was no doubt Wabash had more stringent requirements. But as can be expected, there were also a few jabs at the institution to the south.
"Insanity has run through the Depauw faculty to the point it's bonkers," Nightenhelser said. ""They've essentially eliminated freshman English. It's going to be really bad."
Wabash College Professor of Religion David Blix also joined the panel. In photo: Blix, Nightenhelser, and Steele.
Traditional Journalist's View of Life in Digital Age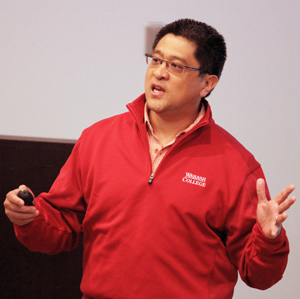 Ron Recinto '87, Managing Editor for Local at Yahoo Detroit, has worked for small newspapers, medium-sized newspapers and most recently for the Detroit Free-Press. He left the Free-Press in 2009 to join Yahoo's news effort.
After a brief introduction, the colloquium turned into a 45-minute discussion on the future of news, newspapers, and online journalism. Recinto answered questions and explained how fast the communications world has changed. He talked mainly about how the news has become segmented - or snacking - and how people get information from numerous sources.
No Ivy on our Walls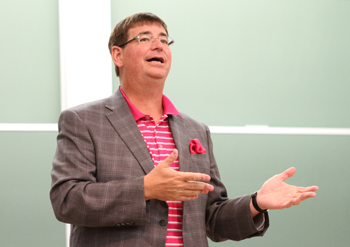 Bill Luckey '82 has served as president of Lindsey Wilson College in Columbia, Kentucky for 14 years – since he was age 36. In his colloquium titled: No Ivy on our Walls he shared the demographics of the college and surrounding Appalachian country and how those demographics shape the college's mission and teaching.
Luckey recalled how the impact his own education as a first generation college student at Wabash changed his trajectory. His goal is for Lindsey Wilson College to provide as rich an experience as it can to the students it serves – 82% of whom are first generation students and 72% Pell grant recipients just as he was.
Community for a Lifetime
When he turns 65, Frank Hagaman '72 wants to get rid of his car.
The founder and former head of Partners in Housing and the chairman of The Land of Indianapolis is tired of the expense, sense of isolation, and the pedestrian-hostile neighborhoods and shopping areas that come with our addiction to autos.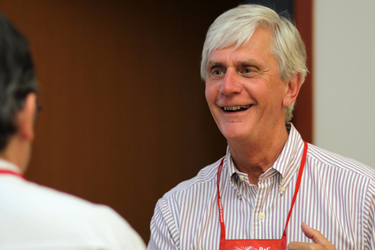 "Our generation will likely live longer than our parents', and for that time I'm looking to remain engaged with the community; I don't want to be fenced off with all the people my age or older, and I want to continue to learn, to work when I want to," Hagaman said.
Research suggests that millions of others nearing retirement age share similar versions of that vision. "As a developer," Hagaman said. "As a developer, that's interesting to me."
He discussed a different model for "naturally occurring retirement communities" that leverages the needs and desires of throngs of retired and semi-retired baby boomers to re-create walkable, multi-generational communities in Indiana's struggling small cities and towns.
Hagaman said Crawfordsville has great potential to become such a community—a vision he encouraged both alumni and the College to consider. He pointed to the city's proximity not only to Indianapolis, but to Chicago via Amtrak, and to the intellectual and cultural events the College provides.
"We have this amazing resource called Wabash College, and this could be a huge opportunity for the College and city to come together, to link assets to create a holistic community."
Hagaman added that recently elected Mayor Todd Barton is a Wabash alumnus.
"You just might want to live near the college; there is a development opportunity here.
"It's a bit of a dream, but that's what we developers do."
Is the Internet Making Us Dumb?
John Kerezy '77 kicked off Saturday's colloquiums asking a provocative question - is the Internet making us dumb?
Kerezy, who teaches journalism and mass communications near Cleveland, presented findings from Nicholas Carr's book, "The Shallows." The book and Kerzey's presentation suggest that skimming and scanning the Net has replaced concentration, contemplation, and reflection.
"It basically weakens our ability to think deeply and comprehend," Kerezy summarized.
"Homeless and On the Road"

During a colloquium session at Big Bash 2007, Barbara and Tom Feit '62 told classmates about their experiences owning a bed and breakfast in Indianapolis.

Five years later, they're "Homeless and on the Road."
On Friday, Feit joined classmates Don Hill and Tom Houk to proclaim the benefits of living much of the year traveling the country via motorhome.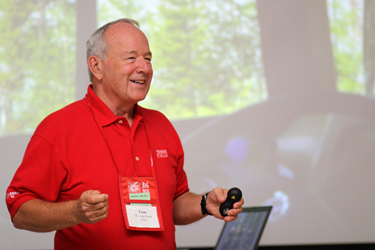 "We ran the bed and breakfast in Indy for years, but we've turned the page on that," Feit said. "And this is a lifestyle we've fallen in love with."
With photos from their adventures displayed on the screen in Hays 104, the three men described the different avenues each had taken to becoming motorhome vagabonds.
Don and Kathleen Hill have been full-time travelers since 2005 and frequently visit well-known destinations during off-season months.
"Yosemite [National Park] is gorgeous, and it's even more marvelous when you have the whole park to yourself," Hill said.
Tom and Gayle Houk were initially interested in camping while traveling and progressed from a two-man tent to a 40-foot diesel pusher motorhome in six months. They've traveled thousands of miles, but Tom said "one of the secrets to traveling this way is taking your time.
"This is the time to learn about where you are, to get to know the people, to get to know your family."
Houk described with awe a recent trip which took them to Glacier National Park's famous "Road to the Sunfirst on the first day it was open for the season.
"It leaves you wondering what we have ever do have the opportunity to live such a life."
Wabash Men Help Build Cancer Treatment Services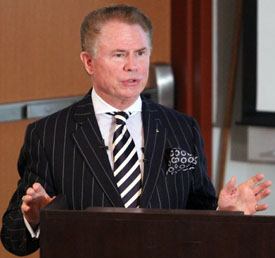 With a Wabash graduate as its founder and CEO, it should be no surprise Wabash men have helped Dick Stephenson '62 build the Cancer Treatment Center of America into a premier service for cancer patients.
Stephenson talked about his family and growing up along with the creation of CTCA. Wabash men have played a big role as employees for the company. Stephenson shared stories and talked about the CTCA approach to patient care.