Jon Stern Named New Dean for Advancement
by Jim Amidon • May 23, 2012

Share:
Wabash College President Patrick E. White announced Wednesday the hiring of Jonathan S. Stern as the College's new Dean for College Advancement. Stern will begin his responsibilities overseeing the fund-raising and alumni and parent relations offices at Wabash on July 16.
"We had a strong pool of candidates, and I am very happy that Jonathan Stern will be coming to Wabash," said President White. "Jon brings a wide array of experience in advancement to Wabash. Having performed at a high level in very competitive environments as a leader and a fundraiser, Jon will help our already very successful advancement operation move to new levels of achievement. I know he is excited about coming to Wabash and joining the leadership team here, and I very much look forward to working with him and seeing all that he will help Wabash accomplish."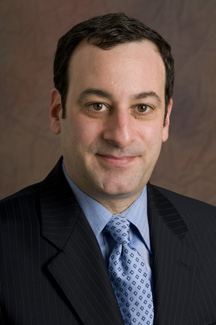 Stern comes to Wabash from the University of Chicago Law School, where he has served 11 years most recently as Associate Dean for Campaign and Strategic Initiatives. His responsibilities included supervising the staff and activities in the alumni relations and development departments, and executing a successful $100 million capital campaign.
"I am thrilled to join Wabash College as a part of President White's team," Stern said. "A Wabash education prepares students to become the kind of thoughtful, committed leaders who not only can succeed in the world, but who also can shape it for the better. I am eager to contribute to this critical mission by working to set the stage for a future of even stronger alumni engagement and support. I very much look forward to partnering with the trustees, faculty, administrators, staff, and students who make Wabash such a special place."
Stern received his bachelor's degree from Miami University in 1983. An accomplished musician, he managed the Cincinnati Chamber Orchestra and later got his start in fund-raising at the Chicago Symphony Orchestra. From 1987 to 1997, he served in a range of positions at the University of Chicago, and served as Director for Development and Major Gifts Officer from 1992 to1997.
He later spent four years as Assistant Dean for Development and Alumni Relations at the Northwestern University School of Law, where during his tenure he planned and executed a successful $63 million campaign and achieved 55 percent growth in the Annual Fund.
Stern and his wife, Holly, a free-lance writer, have two daughters, Lily (7) and Greta (3). Jon enjoys cycling and the arts, and his family enjoys traveling and partaking in local and regional cuisines.