Daguerreotype Death Portraits
by Kelvin Burzon '12 • April 13, 2012

Share: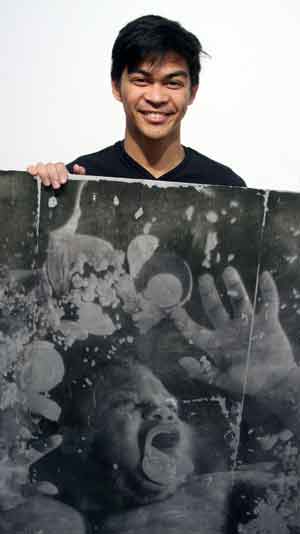 After discovering old daguerreotype death portraits I became fascinated in the imagery of death, its expression, and the reasons for such a grim souvenir of a loved one. The idea of a portrait or monument to someone's guise is such a celebration and tribute. But why celebrate such an unsettling and mournful event?

I've been obsessed with such images, their beauties, and the taboos that revolve around them. The discomforts that surround these images explore our fear or sensitivity to death. My work investigates the beauty and fascination within images that suggest our final moments.

Using the Seven Deadly Sins as a point of departure for this photographic series, I've created a set of images that both represent each sin and delve deeper into the human imperfections we all possess. The production of my pieces relies as much upon my process as they do on my conceptual idea.

I choose to work and develop film simply for the quality and romantic nostalgia that the process provides. The idea that as a photographer I have control of every minute detail of the scene, the lighting, and down to the temperature in which my films are developed, is very important to my process. With this control, I balance it with the spontaneity of the inkjet transfers and presentations of the photographs.