"Bottles" and "Aryballoi"
by Evan Bayless '12 • April 13, 2012

Share: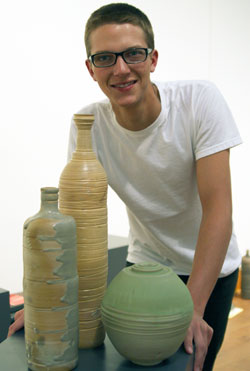 The collections entitled, "Bottles" and "Aryballoi" present a series of vessels that have similar bodies but were given individual identities in the treatment of their necks, textures, and stoppers. The final compositions have subtle, muted finishes that do not call out to the viewer; rather they correspond to much the understated beauty found in nature. They display a natural beauty through their simplicity, both in form and glaze treatment. These sets of bottles and aryballoi can be characterized by the sense of spontaneity coupled with evident intentionality. It is the size, aesthetic simplicity, and unpretentiousness of the bottles that characterize this body of work.
This Place, the land, and the natural elements that have surrounded me throughout my life have influenced me as an artist. It is this connection to place that has impacted the collection on display. I chose to incorporate all natural materials in the textures and accessories of my vessels. Some of the pieces received texture from materials like tree bark, knots from trees, deer antlers, turtle bones, corncobs, pinecones, fossils, and shells. These natural materials were later reintroduced to the pottery as accents.