Peter Gunderman '12 proved the most astute at "Practicing Civic Engagement' Thursday night in the 138th Annual Baldwin Oratorical Contest.
The theme for this year's contest asked the speakers to address an issue prevalent in their community on the theme of "Practicing Civic Engagement." After hearing the four contestants the judges awarded Peter Gunderman '12 the first place prize.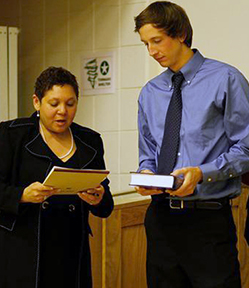 Gunderman gave a well-planned speech entitled, "The Missing Ingredient in Health Care Reform: Community." In his talk he outlined problems with the current system, flaws with solutions being attempted, and his solution. Gunderman proposed personal responsibility mixed with community action. He called the individual to avoid seeking unnecessary care and to practice preventative care by living healthier lifestyles. He implored the community to raise health awareness through a health survey and give of their time and money to free clinics. Gunderman shared a link to the Montgomery Country Free Health Clinic.
"The clinic will be completely volunteer run and for pre-health students that's a great opportunity for experience," Gunderman said. "Instead of traveling to Indianapolis we can help out right here in Montgomery County."
Gunderman's strong interest in health drew him to the contest. He lists a Global Health immersion trip, economics of health class with Professor Howland, and plans to attend medical school in the fall. Though driven to the contest by his passion for health, Gunderman thinks speech is important for everyone.
"Public speaking is directly related to Wabash," Gunderman said. "Wabash trains us to speak well, I think anyone who has a particular interest should translate that into speech."
The contestants did just that in their speeches.
"I was really impressed with the speeches, it was exciting for us to see a range of students from a range of students from different majors showing interest in this long held traditional public speaking contest," Jennifer Abbot, Associate Professor of Rhetoric said. "It's a sign that oratory is not an old or antiquated art, it is alive and important."
Coming in second place, Michael Witczak '14 gave a possible solution and ways to implement it to the current faculty-student relations issues. His talk was titled, "Fixing Problems the Wabash Way."
Keeping to the theme of Wabash students solving problems Ryan Cloyd '14 gave a talk entitled "Wabash Always Tutors." Cloyd addressed problems with graduation rates in Indiana, specifically for Montgomery County. He explained why the current institutional solutions to the problem were ineffective and left the audience with a call to action. Cloyd explained that the best solution to the problem was through one on one tutoring and mentoring programs. He encouraged students to pursue these options more in their time at Wabash through College Mentors for kids or directly through the schools in Montgomery County.
Trevon Stovall '15 came in fourth with his speech, "Eligibility for State-Funded Financial Aid." He made a case for the removal of the Aid Elimination Penalty of 1998, which removed financial aid for students convicted of drug possession or use. He made a case by saying that the law is inherently discriminatory by removing the number of minorities and lower economic status students in college, assumes the use of drugs in chronic, and is in effect double jeopardy, punishing once for the offence and again by removing the option of financial aid. He finished by inviting students, faculty, and community members to learn more and help change the legislation.
"All four contestants were able to take their topic, whether extremely local like Michael's, or national like Peter's and make them actionable to us," Abbott said. "They were able to translate them into concrete steps we could take, that's really important to the rhetoric department."
Everyone in the audience reflected the night's theme of civic engagement. Professor Abbott was glad for the turnout and the support from members of the community.
"It was exciting to see Professor Hadley who is retiring and has been so civically engaged as a professor and citizen of the county and the other two; judge Lohorn and Commissioner Mays," Abbot said.
Professor Hadley, Chair and Political Science was joined by two other judges for the event. Peggy Lohorn a Montgomery County Supreme Court Judge and Carolene Mays, Member of the Indiana Utility Regulatory Conference.