Students to Speak at Mens Studies Conf.
by Howard Hewitt • March 28, 2012

Share:
Two Wabash students and two professors will travel to Minneapolis Thursday to participate in the American Men's Studies Association national meeting. The Wabash men will be participating in a session about young male reading habits.
English professors Warren Rosenberg and Eric Freeze will make the trip with junior Wyatt Lewis and senior Reed Hepburn. The Wabash contingent will join students and faculty from Hampden-Sydney to speak on two panels.
"The topic is "Guys Read," a response to a website that posits a "crisis" in young male reading habits and takes a pretty stereotypical view of how to redress that problem," Rosenberg explained. "We will all be discussing this and basically positing that if there is a crisis, and we doubt its scope, that our students read quite well and quite differently than the stereotype might predict."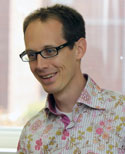 Freeze believe there is a myth about the types of literature that appeals to young men. "At an all-male institution, I think sometimes we pander to what we believe guys will like: action-packed literature with guns and blood," Freeze said. "But I've seen more men affected by novels like Kate Chopin's The Awakening or Zora Neale Hurston's Their Eyes Were Watching God. These are stories about marginalized women who are different from the norm and who have to negotiate their difference in the larger context of a society that doesn't understand them. I've found great reception for these narratives from our students who sometimes feel this same marginalization and misunderstanding coming from an all-male institution.
"Texts that push men to redefine what it means to be male, that help them learn the more important qualities of empathy and understanding, are the ones that have had an enduring impact on the students I've taught."
Lewis shared several thoughts on his participation which you can read in the FYI blog linked here.