Bestselling Author Simmons '70 at Wabash
by Steve Charles • March 16, 2012

Share: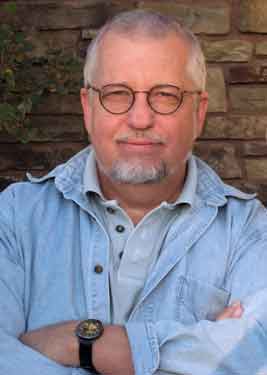 Dan Simmons, the author of the Hugo-award-winning science fiction classic Hyperion series and the New York Times bestseller The Terror, returns to his alma mater Wabash College on Monday, March 19 for a public reading and to work with students in the college's creative writing program.
A 1966 graduate of Pittsboro High School, Simmons has written more than 20 novels and story collections since leaving his 18-year career as a teacher and developer of a gifted/talented program in Colorado. He often changes genres with each new book, and has garnered honors for his science fiction, fantasy, horror, and crime fiction.
Several of his works have been optioned for film, including Drood, Simmons' 2009 historical novel about the final years of Charles Dickens' life, which is being adapted by Guillermo del Toro, the director of the Oscar-winning Pan's Labyrinth.
Of Simmons' Locus-award-winning Summer of Night, set in a fictional Midwestern small town, Stephen King said, "Simmons writes like a hot-rodding angel, loading his American nightmare with scares, suspense, and a sweet, surprising nostalgia. I am in awe of Dan Simmons."
A starred-review in Publisher's Weekly for Simmons' 2009 novel Black Hills said, "In his ability to create complex characters and pair them with suspenseful situations, Simmons stands almost unmatched among his contemporaries."
"Simmons is a consummate master of intriguing spins, shifting between time periods and situations more gracefully than a chameleon changes colors," Los Angeles Times critic Nick Owchar wrote in his review of Simmon's 2011 dystopian thriller, Flashback. "Now, with Flashback, he gives us a noirish thriller set in a grim, broken future where the only relief comes from a drug."
"Dan Simmons is a writer who not only makes big promises, but keeps them," the Seattle Post-Intelligencer said in its review of The Terror, the author's 2007 novel that added a note of supernatural horror to a story inspired by the 1845 polar expedition of Sir John Franklin in search of the Northwest Passage. "The Terror chills the reader to the core."
The March 19 public reading is the author's first return to Wabash since 2003, when he opened his presentation with the dedication of his Locus Award-winning novel, Ilium, to the College. Simmons graduated from the College in 1970, earned the Phi Beta Kappa Prize, was an illustrator for the College newspaper The Bachelor, and founded the alternative journal The Satyr during his four years as an English major and history minor. His professor, Walt Fertig, described him then as "the best writer we have had in several years. In my creative writing class, he was like an associate teacher."
Simmons will read from his work at 8 p.m. on Monday, March 19 in the Korb Classroom of Wabash College's Fine Arts Center. He will discuss his writing during a craft talk on Tuesday, March 20, from 11 a.m. to 1 p.m.
The Wabash College Bookstore will also have books available for purchase and book signings will take place at both events. Admission is free and the events are open to the public.