Edward Jones Invests in Business Leaders
• March 7, 2012

Share:
The connections between Wabash College and Edward Jones go back more than 50 years, and now the highly regarded financial services firm will have a permanent link to the College.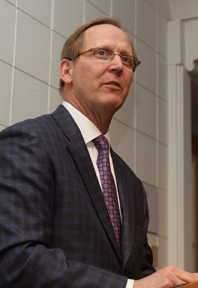 Wabash President Pat White announced a gift from Edward Jones that will help to endow Wabash's innovative Business Leaders Program. The gift matches a generous Challenge of Excellence commitment from Wabash Trustee Gary Reamey '77, who is a Principal with Edward Jones at its Canadian headquarters.
"We are proud of the Wabash legacy at Edward Jones, which includes — among many others — three Wabash trustees," said President White. "These two gifts are a genuine endorsement of our Business Leaders Program, and we are honored that a talented business leader like Gary Reamey and one of the most respected financial services companies in the world have chosen to invest in the program."
Wabash's legacy of educating business leaders who have gone on to have great success with Edward Jones includes long-time trustee John Bachmann '60, who prior to his retirement served as Managing Partner of Edward Jones from 1991 through 2003. Allan Anderson '65, who chairs the College's Challenge of Excellence campaign, served as head of Edward Jones' United Kingdom division prior to his retirement.
The Challenge of Excellence is a $60 million campaign with four key elements, including resources for career development.
"My wife Joanne and I are very pleased to be able to join Edward Jones in making this matching gift to the Business Leaders program," said Reamey. "We are very excited about the opportunities this program will provide to Wabash students."
The Business Leaders Program is designed to deliver a comprehensive introduction to the world of business by combining the academic courses in the Business Sequence with experiential learning. The program is open to any student, regardless of his major.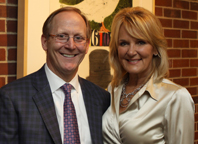 Reamey's $100,000 gift and the $100,000 match from Edward Jones will provide opportunities for students to participate in summer internships that are a part of the Business Leaders Program.
"We are grateful to Gary and Edward Jones for their generous gifts. The Edward Jones internship fund also creates a good opportunity for other alumni who work for the company to support their alma mater and the Challenge of Excellence," said Interim Dean for College Advancement Tom Runge '71.
Edward Jones serves nearly seven million investors and with 12,000 offices has more offices than any other investment firm in North America. The company focuses on taking a personal, long-term approach to investing, and works only with individual investors. It is consistently ranked as one of the nation's best companies to work for by FORTUNE Magazine.