Wabash President Patrick White has named Greg Redding the College's new Faculty Athletic Representative. Dr. Redding, associate professor of German, assumes the position held for more than a decade by Professor Tobey Herzog.
The Faculty Athletic Representative is a member of the faculty at an NCAA member institution designated to ensure that the College establishes and maintains the appropriate balance between academics and intercollegiate athletics
"Greg Redding has demonstrated leadership in all aspects of his life, and as a former student-athlete at Wabash, he knows the demands and the rewards of participating in intercollegiate athletics," said President White. "I'm pleased that he will continue Tobey's work to expand on the relationships between faculty and coaches necessary to achieve a perfect balance for the men of Wabash."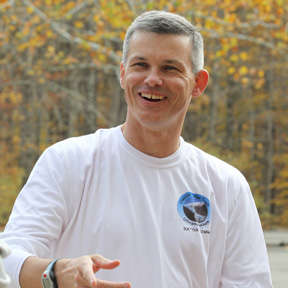 Redding, a German major and 1988 Wabash College graduate, was a member of Wabash's cross country team as a student. He later earned his master's degree and Ph.D. in German literature from the University of Cincinnati.
Prior to returning to teach at his alma mater in 2002, Dr. Redding taught in the German Department at Washington and Jefferson College, where he served as the school's men's and women's cross country coach for five seasons.
"We are fortunate at Wabash that the faculty and the athletic department have a shared sense of purpose, and on one level all I need do is maintain the strong faculty-coach relationship that Tobey and his predecessors have cultivated over the years," said Redding.
Redding is an avid runner who specializes in ultra-marathons ranging in distance from 50 to 100 miles. In fall 2011, he taught a Freshman Tutorial that studied distance running through the lens of the liberal arts. In that course, his students had the opportunity to run with — and learn from — famed German-born distance runner and author, Bernd Heinrich, who wrote Why We Run: A Natural History. Redding also ran with his students on their final exam project — the Tecumseh Trail Marathon on December 3.
"Teaching and coaching are similar endeavors, and the lessons learned in athletic contests complement those learned in the classroom," said Redding. "In my freshman tutorial on the Theory and Lore of Running, we looked at running as a liberal art. As the Faculty Athletic Representative, I would be interested in leading an inquiry into how the intellectual and the physical intersect at Wabash."
Redding begins his responsibilities immediately.