Alumni Spark Summit Discussions
by John Dykstra '13 • February 11, 2012

Share:
Well-established entrepreneurs and Wabash alumni gathered at Chadwick Court Saturday for Career Services' Second Annual Entrepreneurship Summit.
The entrepreneurs and Wabash alumni educated students from nearby colleges and members of the Crawfordsville community about being an entrepreneur. The event brought in 75 non-Wabash students and 45 Wabash students.
"The Summit has been very successful in helping people go forward with a new idea and develop a new idea they have" Assistant Director of Career Services James Jeffries said. "Cory Levy, in particular, gave some great advice. I think he helped relieve some of the pressure that entrepreneurs face at the beginning where it is not necessarily about the business plan or how successfully you can monetize. It's more about how you can present yourself as a capable visionary leader because people are investing in you, and you can always improve yourself.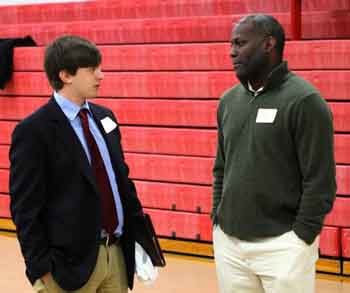 "So, developing yourself as a good leader is the first step. Then, the nuts and bolts of entrepreneurship come along as you are ready for it. And, if you have a good idea and you present yourself as a capable person, you are going to get the support to develop the idea along the way."
Levy, a 20 year old entrepreneur, discussed his philosophical outlook. "Do what you love to do … work for your hero …. your life will become better by helping others … and the harder you work, the luckier you get."
Levy left his presentation open to occasional texting "interruptions." He gave the audience his cell phone number so they could text him questions.
Career services also displayed the Summit's live Twitter feed throughout the event.
Follow the event's Twitter page: #WES12.
Wabash alumni, who were the panelists, encouraged the audience to embrace ideas and accept feedback.
"Do not worry about failure," Joe Trebley '01, Head of Startup Support and Promotion at the Indiana University Research and Technology Corporation, said. "Failure is good feedback. The first thing to do is to find all the people who made the mistakes you do not want to make. If someone gives you critical feedback, listen to them. Also, do not feel like you have to have everything figured out. I think that is a common mistake."
Logan Kemp, owner of 1832 Brew, agreed. "When you've got a good idea, never take no for an answer. If you get a 'no,' use it to make changes you think are necessary."
Kemp began his entrepreneurship career by coincidence. He initially wanted to be an artist, but becoming an entrepreneur fell into his lap.
"I like to cater to the customers. I try to get feedback and understand what they need. We have tried to make the Brew part of Wabash, and I think we have done that. Some of it has been trial and error, and some of it has been just going at it."
Junior Frank Ruvoli '13 confirmed Kemp and Trebley's messages.
"I've taken away, obviously, 'do not quit,'" Ruvolisaid. "I think the thing about creating or coming up with an idea is everybody thinks their idea is not good enough. The thing is to keep going with it. It's good to see people who are successful in entrepreneurship telling you to be persistent about your ideas and to have faith in yourself."
Founder of Last Bite, a meal rating and sharing application, Brian Deyo '08 advised the audience to look for critical feedback.
"If you have 80 percent of people telling you your idea is bad, chances are you have a bad idea," Deyo said. "If one person criticizes your idea, look for more people who agree with that person."
Wabash alumni also covered the legal aspects of entrepreneurship, providing advice ranging from getting patents to adding ownership to a company and getting married.
Chris Brown '89, a patent attorney for Woodard, Emhardt, Moriarty, McNett & Henry, said "going to an attorney is like going to the doctor. If you don't tell the attorney everything, you cannot be treated."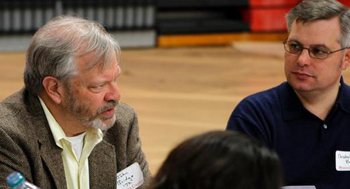 Wabash students seemed to enjoy the legal aspects.
"The best advice was making sure you cover yourself in the very beginning so that you do not have any problems in the long run," Freshman Justin Taylor said. "I want to go into the legal field, and I want to start my own law firm. So, I figured this is the best time to learn how to do that."
Succeeding the legal issues discussion, President of Redstone Communications, LLC Tony Altavilla '85 shared his passion.
Altavilla emphasized the importance of evaluating management workers completely.
"What I look for in management candidates is what these people are like as a person," he said. "Are they family people? Do they have kids? Do they coach their kids' teams? Are they involved in insurance? Where else do they devote their time to get a release from their job?"
The entrepreneurship field has evolved significantly along with technological advancements and social media's growing popularity.
"As an entrepreneur, you should be happy that technology keeps getting better and better because that's what you are going to use for your business," Altavilla said.
Deyo said the internet speaks the truth. "Restaurant owners are sometimes afraid of looking at their reviews online, but they need to for necessary feedback."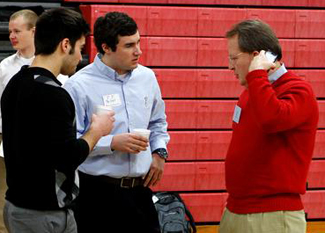 Jason Bridges '98, Owner/Operator of Nantucket Bike Tours, Owner/Founder of SocialBridgeConsulting, and Co-founder of The Lay Line Group, talked about social media appealing to customers. Bridges said it is important to be up-to-date with social media, but to also "shake hands with people," that is, meet face-to-face.
Herm Haffner, a fulltime consultant at Total Solutions, said entrepreneurs need to consider who their audience is. He said social media and smartphone technology appeals to younger generations, whereas traditional phone calls and letters appeal to older generations.
Haffner also drew on the "harsh realities" of entrepreneurship, which requires overcoming human emotions.
"When we (entrepreneurs) define pain, we consider the possible ramifications of our emotions, and those emotions can be positive or negative. The key is you should not fool yourself with emotions. That is the harsh reality of marketing."
Overall, the audience enjoyed the various networking sessions and the question and answer opportunities.
"I think the greatest thing is the networking," Aaron Abell '09 said. "Hearing from other people about the challenges they faced in starting their own business and learning from them, rather than making the same mistakes myself, is beneficial.
"The other thing I want to take away from this is balancing the day job and trying to start a company on the side too."
Junior Rudy Altergott learned how to assert his ideas.
"I came not sure of what kind of business I want to do," Altergott said. "I'm still just having ideas. It's an interactive thing that is helping me brainstorm what I want to do. I kind of have an idea now to maybe start a film production company. From this, I have a great understanding of how to do that."
Jeffries said the Summit should help students gain confidence.
"It should give some confidence to know, also, what kind of community you are working in with genuine entrepreneurs. They are actually very forthcoming. They are ready to help each other see something valuable through."
The Summit's co-mastermind Senior Adam Miller was pleased with the turnout, and hopes it will influence Wabash to add either an entrepreneurship club or program.
"What I would like to see get accomplished is to kick-start either a club or program for the entrepreneurial interests of students," Miller said. "I hope Wabash will jump on the bandwagon of developing entrepreneurial programs."
More News
---
---
Photo Galleries

Wabash College 2012 Entrepreneur Summit