Organist James O'Donnell to Give Recital
• February 8, 2012

Share: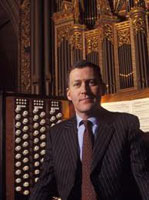 The Wabash College Music Department invites the public to the 13th annual Roger H. Ide Organ Recital at 7:30 p.m., Wednesday, February 15, in Pioneer Chapel. Westminster Abbey organist, James O'Donnell, will play this year's recital. O'Donnell is the organist who supervised the music for the wedding of Prince William and Kate Middleton.
He will perform Toccata by Francis Pott, three chorale preludes from The Eighteen by Johann Sebastian Bach, Choral II in B minor by Cesar Franck, Joie et clarté des corps glorieux by Olivier Messiaen, Capriccio by John Ireland, and Carillon de Westminster by Louis Vierne.
O'Donnell is organist and master of the Choristers of Westminster Abbey and, since January 2011, President of the Royal College of Organists. He has appeared in concerts all over the world, including the United States, Japan, Australia, New Zealand, and throughout Europe, together with concerts in the Royal Festival Hall, the BBC Proms, and many others.
In January 2000, O'Donnell took up his present appointment at Westminster Abbey. He is responsible for the direction of the Abbey's music, both at the daily choral services and the many national occasions. He directs the Choir of Westminster Abbey in its program of concerts, broadcasts, recordings, and tours.
The annual Roger H. Ide Organ Recital is funded by a bequest from Dr. Roger Ide, Wabash Class of 1959, who served as the Wabash College organist while he was a student. The memory of that experience was such a pleasant one for Dr. Ide that he chose to perpetuate the music with a gift that makes it possible to enjoy organ recitals for years to come.
The concert is free and open to the public. A reception will be held immediately following the concert in the Rogge Lounge in Baxter Hall.