Students Support Challenge of Excellence
by Howard Hewitt • February 2, 2012

Share:

Wabash students affirmed their support for the Challenge of Excellence campaign Thursday when they presented a $25,000 check to President White.
Student leaders took the initiative when the $60 million Challenge kicked off two years ago. Jake German '11 and Cody Stipes '11 pushed the Student Senate to pledge $25,000 gift to the campaign. (In photo: President White makes remarks about the gift while 2011 Vice President Tyler Wade '12, 2012 President Alex Robbins '13, 2012 Vice President Jeremy Wentzel '14, and 2011 President Steve Henke '12 listen.)
"The Senate, over the past two years, decided to reach that $25,000 goal, and with the money reverted from clubs last semester, we were able to make our final payment in the amount of $16,500," Current Senate President Alex Robbins '12 said.
Robbins presented the final check to President Patrick White Thursday before the weekly Chapel Talk.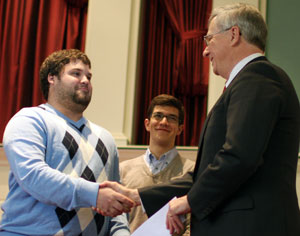 The $60 million campaign for student scholarships, faculty support, study abroad, and career success currently stands at just over $52 million.
"It's one thing when alumni give and another entirely when students give," said campaign co-chair Ted Grossnickle '73. "Not only does it show our alumni that those who currently study at and 'own' Wabash want to support the College, but it also demonstrates that students share the impulse to be generous. It's reaffirming for alumni."
The student contribution will go toward the scholarship fund.
"We are very excited and proud that the student body was able to make a contribution to the scholarship pillar and that we will be able to provide future Wabash men with an opportunity to attend the College at a more affordable price," President Robbins said. "It shows the selflessness of the Wabash community and that we are dedicated to the continued success of the College."
Grossnickle, and co-chair Allan Anderson '65, are thrilled with the message the student gift sends to alumni and outside organizations. "Having students adopt and then reach a matching goal is a powerful message to foundations and corporations that the current students understand how philanthropy is a part of the mission of Wabash College. A college like ours just doesn't work well unless philanthropy is there to support it."
Grossnickle praised student leaders for taking the initiative to make a contribution.
"I can tell you that Allan and I as co-chairs believe this action by the Student Senate is terrific," he said. " We are very proud of this action and it makes us want to tell all our alumni about the students on campus today."