Message of Non-Violence Still Resonates
by Howard Hewitt • January 19, 2012

Share: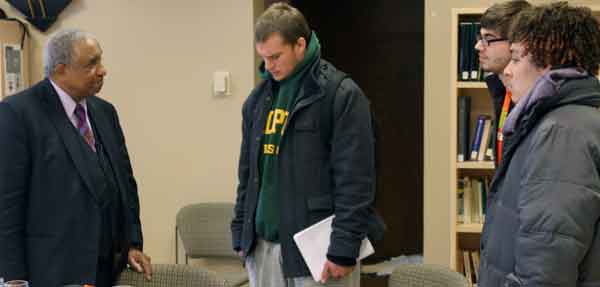 Many stories of the Civil Rights movement have been written, told and retold. But Dr. Bernard Lafayette Jr. tells many stories not yet written. Lafayette visited campus Thursday as part of a week-long celebration of Dr. Martin Luther King's life.
Dr. Lafayette was staying a room beneath Dr. King at the Lorraine Motel in Memphis April 4, 1968. He had been in Dr. King's room that afternoon preparing for a speech. King had directed Lafayette to go ahead of him to Washington D.C. where he would lead a Poor Peoples march.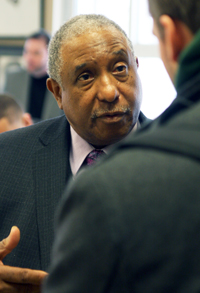 "Martin Luther King took a long time to get to Washington, but he finally made it last year," Dr. Lafayette said, referring to the MLK Memorial unveiled in 2011.
Lafayette was one of the key organizers, trainers, and leaders of the Civil Rights Movement. He helped found and still leads the Student Nonviolent Coordinating Committee with continues to train young people about non-violence.
He spoke to an over-flow crowd at the Malcolm X Institute over lunch hour sharing stories and answering questions.
"We have made progress," he said responding to a student's question about racial equality. "The real question is what has changed? Race doesn't have a definition. Race is not the issue. It's the perception of human beings that is different and whether they should be respected as human beings.
"Race is a false line of demarcation so you can identify the group you want to disrespect and denigrate."
Lafayette, who grew up in Florida and earned three advanced degrees in five years, was a leader of the Freedom Riders from its inception. He volunteered to start the voter registration movement in Selma, Alabama, when others had failed.
He told the students, faculty and staff gathered that the first thing he did was study Selma before setting a foot in the city. He learned of resentment against white leadership and the city's determination to keep black people "in their place."
He went on to organize movements in Chicago and then on to New York where he coordinated efforts among different groups trying to bring the Vietnam War to an end.
He spent considerable time in Southern jails, in riots, and protest marches. When activist Medgar Evers was killed in Mississippi on June 12, 1963, Lafayette was beaten in the front yard of his home.
A student asked what lessons were learned during the Civil Rights Movement. "The most important thing you can learn about your experience is the mistakes you made to get there. Most success is made on the ability to correct errors. The value of a person like me is to tell you the mistakes we made."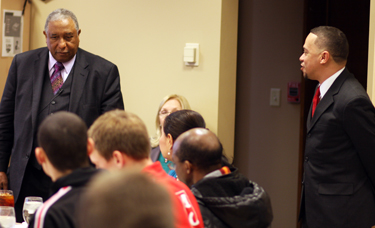 Lafayette said the biggest mistake was not setting up education centers after the passage of the Voting Rights Act of 1965. The landmark law made it a federal crime to prevent anyone from registering to vote or voting. Lafayette said once many had the vote they didn't know what to do with it. Most Black southern residents had never voted in even a presidential election.
"And now it's coming back again," he said in reference to Voter ID laws. "They're changing the laws to discourage people to vote.
"Our biggest mistake was assuming we solved the problem but now it's back."
He talked extensively about trips around the world into centers of violence where he and others taught those at the heart of discord non-violence philosophies and practices. "We teach people to stand up without being violent," he said. "What are your goals? What are you doing to accomplish those goals? What should you do differently?"
It's a practice, Lafayette said, that is not easy but has proven effective around the world.