Historic Comps Signify Wabash-DePauw Effort
by Steve Charles • January 16, 2012

Share: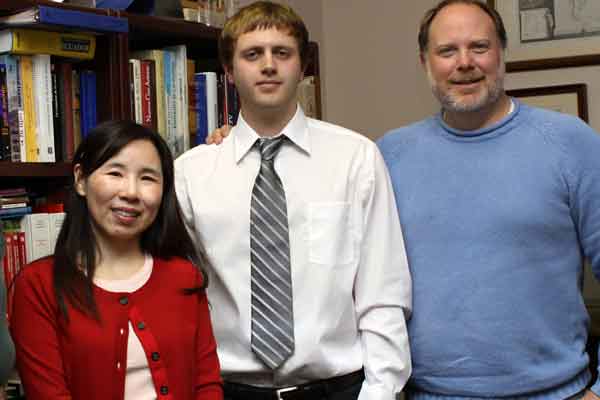 Zach Lowry's 10-minute conversation in Japanese last Thursday with DePauw University Associate Professor Hiroko Chiba during his senior oral comprehensive exam marked an historic moment for Wabash—the first time a member of the DePauw faculty has participated in a Wabash senior's oral comps.
But Lowry himself has become a catalyst in the College's efforts to provide the learning opportunities that students desire, inspiring two rivals in athletics to team up in the classroom to make that pursuit possible.
And, in a way, Lowry's is the story of how one student's determination to study Japanese paved the way to a $750,000 grant and the College's new Asian Studies program.
Last Thursday, the senior math major met with Wabash Assistant Professor of Mathematics Doug Limmer, Associate Professor of Spanish Dan Rogers, and Chiba for his one-hour "oral comps"—literally a rite of passage, as Wabash seniors are required to pass both written and oral comps to graduate. The three-person panel includes a professor from the student's major and another from his minor or area of concentration. Because Lowry's area of concentration is Japanese Studies and Wabash does not teach Japanese, Professor Chiba—who has taught Lowry in classes at DePauw through a special arrangement between the schools—was asked to join the panel.
"I truly appreciated the invitation," Chiba said. "Since DePauw does not have oral comprehensive exams at the institutional level, it was my first time to participate in one."
"It was fantastic," said Rogers, who worked with Lowry for the past two-and-one-half years to arrange his Japanese Studies area of concentration. "This is a paradigm shift: If we want Wabash students to have all the opportunities that they need in a changing and globalizing world and at the same time not go bankrupt trying to help them, we've got to find creative ways to meet student needs, and some of those ways are going to require us to be flexible."
Rogers explained that in his freshman year, Lowry told Wabash Associate Professor of Modern Languages Gilberto Gomez, a former director of the GLCA Japan Study Program at Waseda University, that he was interested in taking Japanese. Gomez met with Rogers, chair of modern languages, whose counterpart at DePauw, Robert Hershberger, is both a friend and colleague.
"By that time DePauw and Wabash had been collaborating off and on for several years on the Ecuador Program," Rogers said. "So we hatched this idea to see if our respective deans would let students from either institution take classes in languages the other school didn't offer. To his great credit, [Wabash Dean of the College] Gary Phillips, and his counterpart at DePauw, agreed, and we've been doing this for four years now.
"Zach started taking elementary Japanese at DePauw when he was a sophomore," Chiba explained. "The class met four times a week, and he didn't miss class, except when he had engagements for his tennis team. It was wonderful to have a committed student from Wabash and I admired his determination and solid work.
"Zach got along well with DePauw students, as well."
"He also studied abroad in Japan," Rogers added. "And he is preparing a capstone project in Japanese Studies that he'll present later in the semester.
"Last semester we realized that, Zach would need to take an oral comprehensive exam which included his Japanese studies. We were going to need his Japanese professor at DePauw to come up and do the area of concentration portion, so we got that set up with approval from the deans."
All this might seem much energy expended for one or two students, but Lowry's academic journey is having benefits for many more. Last year, Wabash and DePauw announced a $750,000 grant from the Andrew W. Mellon Foundation that established the College's new Asian Studies program. Rogers said the collaboration required to meet Lowry's needs was a factor in the schools' securing the grant.
"Wabash and DePauw were able to sell Mellon on this idea because we were able to demonstrate a history of collaboration for the benefit of students," Rogers said. "So Zach's work—and his being a good, hard-working and diligent student—helped pave the way for the Mellon Grant.
"Student need is the catalyst, then faculty and administrators on both sides being flexible and creative to find ways to meet those needs, working together to help students."
Which brings us back to Thursday, and Lowry's oral comps.
"Yesterday was a culmination of all these things," said Rogers, who had briefed Professor Chiba on the format of the College's oral comprehensive exams. Rogers said she spent 10 minutes conversing with Lowry in Japanese.
"So you have this great moment when a student who is relatively shy gets to show his math professor and myself that he can carry on a high-level conversation in the Japanese language, a subject we don't teach."
Like most Wabash seniors, Lowry was reluctant to speculate on how well he had done on his oral comps. But Rogers said Chiba was impressed by the grammar and content of the conversation, and Lowry, a bright but quiet student, seems to have found not only an academic subject; he's found a way of life that appeals to him.
"Zach's going back to Japan, wants to live and work there," Rogers said. "Different cultures have different ways of being, and Zach may have found a culture that is consonant with his own personality.
"We found a way for this student to blossom and to bring back the Japanese language and studies courses into the Wabash context. It was an incredibly satisfying moment."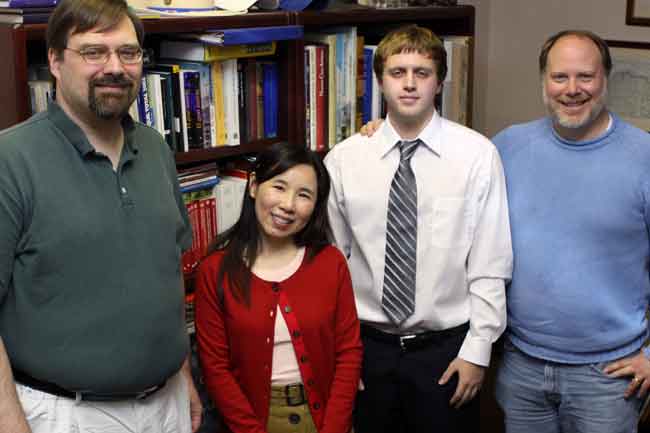 In photos: (top) DePauw Associate Professor Hiroko Chiba, Zach Lowry '12, Wabash Associate Professor Dan Rogers; (at left in group photo above) Assistant Professor of Mathematics Doug Limmer.