12-1 Wabash Hosts DPU Wednesday
• January 9, 2012

Share:
The Wabash College basketball team, 12-1 on the season after a weekend sweep of HIram and Allegheny, will host DePauw University Wednesday evening at 7:30 p.m. at Chadwick Court. The two rivals will square off in a North Coast Athletic Conference contest.
Senior Derek Bailey scored a career-high 32 points to lead Wabash to a 61-47 win at Allegheny Saturday afternoon, a 12-1 overall record, and a share of the lead in the North Coast Athletic Conference Men's Basketball standings.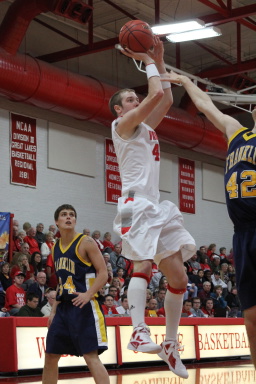 Bailey erupted for 22 second-half points against the Gators less than 24 hours after setting his previous career-best scoring effort with 28 points in a win at Hiram College on Friday night.

The victory over Allegheny also leaves Wabash as one of only two teams left in the NCAC without a loss in conference play. Wittenberg defeated Ohio Wesleyan 57-55 on Saturday afternoon in Delaware, Ohio to move to 4-0 in league play. Wabash is also 4-0 against NCAC opponents.
The Little Giants also won at Hiram Friday evening 77-70. Wabash hit school-record 16 three-point shots in that contest. Bailey scored a then-career-high 28 points and sophomore Andy Walsh drained four three-pointers to finish with 12 points.

On Saturday, Wabash jumped out to a 10-3 lead over the Gators thanks to Bailey, who accounted for all ten points with two three-pointers and a pair of two-point baskets. Allegheny rallied to tie the game at 10-10 while holding the Little Giants scoreless for nearly six minutes before Houston Hodges drilled a three-pointer from the corner to put Wabash up three. The Little Giants took a 27-21 halftime lead before Bailey's second-half scoring explosion.

The Little Giants scored the first eight points of the final period to race out to a 35-21 lead. Bailey accounted for six of the eight points, drilling two long-range shots. Allegheny answered with a 7-0 run to cut the lead to seven points before Bailey ended the streak with a baseline jumper. Colten Craigin boosted the lead to nine points with a layup.

With Wabash still holding a nine-point lead midway through the period, Bailey nailed another triple to give the Little Giants a double-digit lead for the remainder of the contest.

Bailey finished the game hitting 12-of-22 shots, including 8-of-16 from the three-point arc.

Brian Shelbourne and Pete Nicksic added six points apiece for Wabash. Aaron Zinnerman added five points. Zinnerman also had a team-high 10 rebounds. Zinnerman and Shelbourne each handed out five assists, while Hodges had four assists for the contest.

David DiBernardi came off the Allegheny bench to score 13 points for the Gators, who fell to 2-11 for the season and 0-4 against NCAC teams.

Wabash will return home on Wednesday for a 7:30 p.m. contest at Chadwick Court against arch-rival DePauw University. The Tigers lost 67-51 at Hiram Saturday afternoon to fall to 8-5 overall and 2-2 in their first season in the NCAC.