Four Professors Awarded Tenure
by Jim Amidon • December 21, 2011

Share:
Wabash College President Patrick E. White and Dean of the College Gary A. Phillips have announced the promotion of four assistant professors. English professor Agata Szczeszak-Brewer, physics professor Martin Madsen, art professor Elizabeth Morton, and psychology professor Neil Schmitzer-Torbert have been granted tenure with the rank of Associate Professor at the College.
The process of earning tenure is a demanding one. It takes six years with formal assessment every other year, and evidence of continuous faculty self-assessment is required. It is a public process — students, departmental faculty, division chairs, external professional reviewers, the wider community, the Dean of the College, and the President all play a role.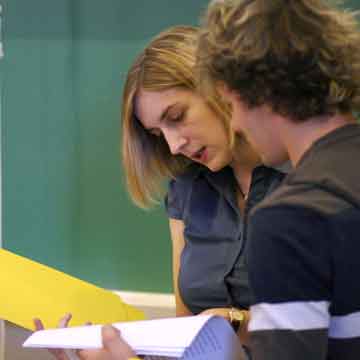 "These four members of the faculty more than surpass the expectations of excellence expected of each and every Wabash teacher," said Dean Phillips. "Each is an impressive, accomplished teacher/scholar committed to maintaining high academic standards, deep and meaningful student engagement, and reflective learning that brings students to wrestle head-on with ideas, persons, cultures, principles, and values that challenge them to think for themselves and to act responsibly."
Dr. Agata Szczeszak-Brewer earned her master's degree in English from the University of Wroclaw, Poland, and received her Ph.D. in English from the University of South Carolina. Since her arrival at Wabash in 2006, she has taught British literature — specializing in James Joyce — world literature, and cultural theory, among many other subjects.
"Agata challenges Wabash students to learn to interrogate difference and to determine for themselves what matters most, and then to argue persuasively for it," said Dean Phillips. "But reflective thinking and responsible action are hobbled if a student can't express himself well. Agata's great success in teaching students to write serves as a model for us all. It is this powerful combination of learning to discern, to care, and to express that impresses students and faculty colleagues alike."
She is the author of Empire and Pilgrimage in Conrad and Joyce (University Press of Florida, 2010) and the recipient of the Bruce Harkness Young Conrad Scholar Award in 2007. She serves as a Trustee of the Joseph Conrad Society of America. At Wabash, she is the director of Senior Colloquium and chairs the Gender Issues Committee.
"I am thrilled to receive tenure at Wabash, and I am especially happy that I'll continue working with my wonderful colleagues in the English Department, who have been very supportive from day one," said Dr. Szczeszak-Brewer. "They are not just my colleagues—they are mentors and friends. And I'm excited to continue to teach my students how to make connections between texts and contexts, how to appreciate literature and the world of ambiguities, metaphors, and sounds, and how to express themselves clearly. Their passion for learning has been a tremendous inspiration for me."
While on sabbatical in fall 2012, she will begin research on her second book at the National Library of Ireland. The book is tentatively titled Castrating the Nation: Impotence and Nationalism from James Joyce to Salman Rushdie."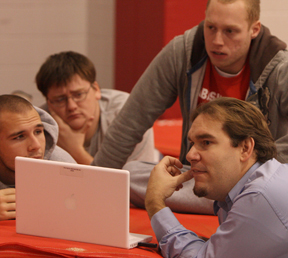 Dr. Martin Madsen began teaching in the physics department in 2006 after earning his master's degree and Ph.D. from the University of Michigan. He received his bachelor's degree with highest distinction in physics from Purdue University.
Dr. Madsen has taken a varied approach to instruction at Wabash — teaching a course for non-physics majors modeled after the Mythbusters television show; teaching an advanced course focused on medieval arms and armor; bringing the fields of music and physics together in an instrument building course; and his popular Freshman Tutorial on The Lord of the Rings.
"The Wabash community as a whole has been incredibly supportive of the ways I teach — from campus services, the freshman tutorial committee, to the athletics department — and as I explore what it means to be a learner of physics in the 21st century," said Dr. Madsen.
"Martin Madsen's innovative work in the teaching of physics garners the admiration of fellow physics teachers across the country," said Dean Phillips. "Here at Wabash he shows how the process of framing hypotheses, gathering data, testing assumptions, and assessing accuracy and effect is a liberal arts skill. Martin is an exemplar of the Wabash faculty teacher/scholar who constantly searches for creative ways to improve his craft. This commitment to creativity and self-imposed high standards, in part, has led his colleagues to select him the 2012 McLain-McTurnan-Arnold Research Scholar."
Dr. Madsen will be conducting research at Purdue University next fall as the MMA Research Scholar. In the spring 2013 semester, Dr. Madsen will spend his sabbatical redesigning the Physics 111 course, which is required of all majors. "I really enjoy pedagogy — the asking of, 'How can we do this better?' That's a really enjoyable way to spend a sabbatical."
Professor Madsen has involved a number of Wabash physics majors in his research topics, which include atomic physics, coulomb crystals, and graphene ion traps.
"There's something healthy about having the motivation to put things together and be reflective about my teaching and research," said Madsen of the tenure review process. "It's the reflective process of writing and thinking about how to do things better that leads to improvement and growth. My colleagues in the physics department have been incredibly supportive over the last six years. I couldn't ask for better colleagues. Whenever I have a question about a class or something isn't working, I can go to them and we brainstorm ideas and methods that will improve my teaching.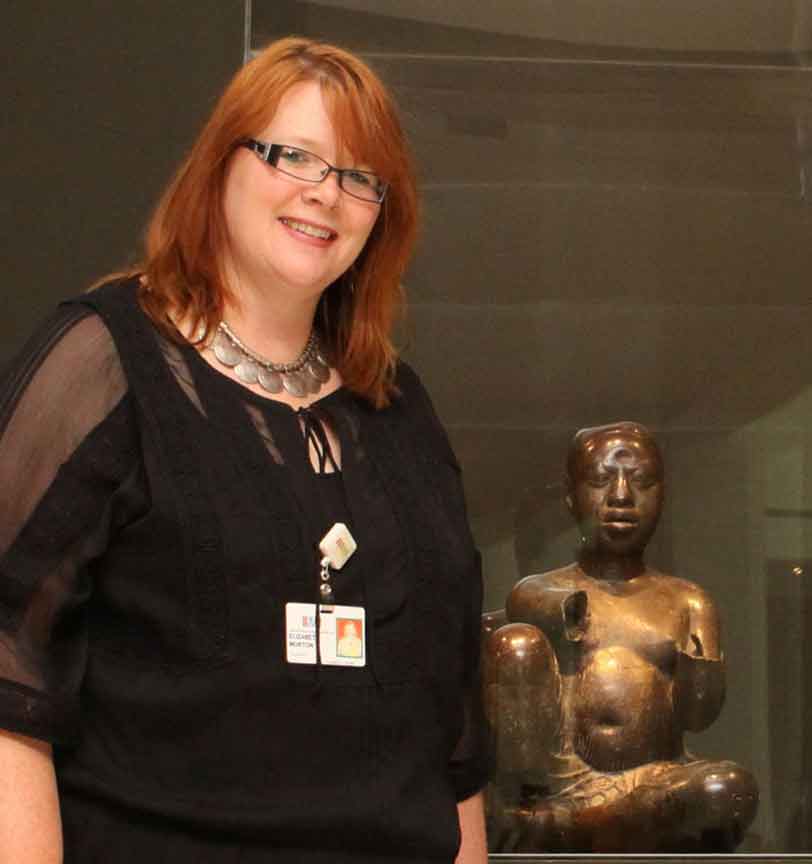 "Elizabeth Morton's reputation as a leading expert of African art is most strikingly front and centered at the Indianapolis Museum of Art. Her acclaimed curatorial work on Ube art is but one example of the way her teaching and scholarship seamlessly connect," said Dean Phillips of Dr. Morton's work as a curator. "Elizabeth's ability to involve Wabash students in the museum world and its work is a testament to her way of engaging students, faculty, and the wider Crawfordsville community in the encounter with Africa and with art more broadly."
Dr. Morton began her career at Wabash in 2007 after earning her bachelor's degree from Indiana University, a master's degree in Botswana, and a master's and Ph.D. in art history from Emory University.
Dr. Morton curated the Indianapolis Museum of Art's exhibition, "Dynasty and Divinity: Ife Art in Ancient Nigeria," which opened in July and has been extended through January. During the course of her work on the exhibition, she involved Wabash students, faculty, and staff.
After teaching for five years at another institution prior to coming to Wabash, Dr. Morton said she was surprised by what she discovered teaching only men at Wabash.
"Wabash has come to mean a great deal to me, and I am extremely happy to be a tenured member of this institution," said Dr. Morton. "When I first arrived here, I never expected to find the all-male classroom so valuable. In watching students grow over the years and in interacting with alumni, I realize that in the environment at Wabash, men are encouraged to find a joy in learning. They also learn to be comfortable in expressing themselves with peers and professors, which they carry forward in all aspects of life. This has been a very rewarding discovery for me. I love many things about Wabash: the social community, the activities, the collegiality, and the alumni involvement to name a few. I am honored to be a part of this College and look forward to many more years here."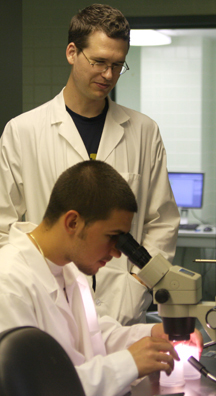 Psychology professor Neil Schmitzer-Torbert graduated summa cum laude with honors in psychology from Knox College before earning his Ph.D. in neuroscience from the University of Minnesota. Arriving at Wabash in 2006, Dr. Schmitzer-Torbert has taught a full range of courses in his department — from Introduction to Psychology and Research Methods, to the Senior Capstone course and the high-level Behavioral Neuroscience course.
"I feel that the [tenure] decision is a validation of the work we've been doing for the past six years, and I look forward to continuing to learn how to best teach our students, and engage them in the liberal arts," said Dr. Schmitzer-Torbert.
A National Institutes of Health grant has enabled Dr. Schmitzer-Torbert to conduct research with students on the effects of cocaine on the behaviors of rats. He's had seven students work with him over the summer and another 10 students have taken independent study courses with him.
"His ability to engage students in cutting edge neuroscience research has garnered high praise and respect from the wider science community," said Dean Phillips. "His recent NIH grant is one piece of evidence. The involvement of Wabash students in professional meetings, in his research lab investigating issues of rodent and human memory, and in publication as co-authors in premier journals is further evidence.
"Neil's unflappable demeanor and wry sense of humor serve important pedagogical purpose. Students find themselves welcomed, invited to the lab bench to do difficult science, and encouraged to assess what enables them to function not only as scientists but also as liberally educated persons," added Dean Phillips.
Dr. Schmitzer-Torbert will continue his collaborative research with students this summer under the NIH grant, and will spend his sabbatical finishing his experiments and publications from the work of the last three years. "With the rest of my time, I'll be looking at applying for a new grant to keep this work going, and to provide more research opportunities for our students," he said. "And, I'll be feeling out new research projects, looking to expand my work in the use of video games studying learning in humans."
"As I read through the portfolios, noting especially the comments of current and graduated students that I solicit, I am struck repeatedly by the expressions of gratitude for challenging teaching," added Dean Phillips. "It is an appreciation for teachers who care, teachers who take their students and their vocation as teacher/scholars dead seriously, teachers striving to become better at what they do. Tenure acknowledges this striving and unsatisfied commitment to future excellence. Agata, Neil, Elizabeth, and Martin give me confidence that the Wabash's liberal arts mission is in the best of hands."
All four professors will be promoted to the rank of Associate Professor beginning July 1, 2012.