Chamber Orchestra Concert this Sunday
• November 29, 2011

Share:
The Wabash College Chamber Orchestra is pleased to present its annual December CWOC (Concert WithOut Carols) on Sunday, December 4, at 7:30 p.m. in the Lewis Salter Concert Hall in the Fine Arts Center.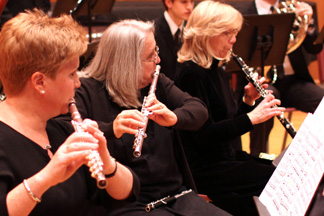 Directed by Alfred Abel, the Chamber Orchestra's membership is drawn from the College, high schools, and the local community.
Abel describes Sunday's concert as "a wonderful program for the whole family to enjoy, with three orchestral classics guaranteed to please young and old alike."
The program includes "The Moldau," one of the most beloved pieces by the Czech composer Bedrich Smetana, depicting the river Moldau from its origin through the St. John's Rapids to its full majesty.
The concert also features two favorite masterworks by Beethoven: Incidental Music to "Egmont," a thrilling musical companion piece to Goethe's tragic opera of the same name, and the Symphony #6 "Pastoral," one of Beethoven's most appealing works, which was given a second lease on immortality in Walt Disney's classic animated masterpiece "Fantasia.
This concert is free and open to the public.