Cross Country Prepares for Nationals
by Brandan Alford '12 • November 16, 2011

Share:
The Wabash cross country team will be making a repeat appearance at the Division III National Cross Country Championship this weekend. A second-place finish at the Great Lakes Regional meet a weekend ago has punched the Red Pack's ticket to Winneconne, Wisconsin for Saturday's meet, set to begin at 1 p.m.

The Little Giants finished behind Calvin, which won its 16th-consecutive regional with 36 team points. Wabash finished with 100 points for the meet.

"The guys ran great," coach Roger Busch said. "We have endured some setbacks, losing two of our top runners, and I think that people at the conference and regional level wrote us off. So it was nice to see guys come out and compete at a high level.

"The conditions were a little windy, but we just brushed those aside and competed. We talked about running off of place, and that is exactly what they did."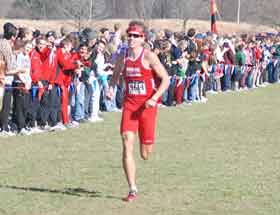 The Little Giants were led by senior Kevin McCarthy's individual title in the meet, as well as three other all-regional performers. A year ago, Wabash turned in a 13th place at the national meet a week after a second place result at regionals.

"Kevin has been a top-10, possibly top-5 runner in the region since his junior year," Busch said. "He wasn't feeling really well Saturday, so I told him, 'no pressure, go out there and just run, and if the opportunity is there to win the race, go do it.' As a coach to see him finally get a true championship win was really exciting.

You could read it all over his face during that last mile; he was relaxed, and he had a smile on his face. He was in the moment; he was composed and he looked great."

Seniors Brian David and Kenny Farris, along with sophomore Dalton Boyer turned in all-regional times. David, Farris, and Boyer, along with McCarthy, turned in season-best times at meet hosted by Oberlin. McCarthy blazed the course in 24:31.01, 45 seconds better than his previous best time. David finished n 11th place with a time of 25:11.58, bettering his season-best time by 20 seconds. Boyer rounded out the top-20 Little Giant performers with a time of 25:33.57, which was good for 17th place while Farris (below left) finished 29th in a time of 25:57.22.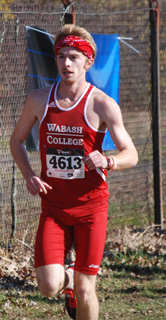 With their all-region performances, coupled with the grades they have attained in the classroom, the quartet will also be eligible for Academic All-American recognition following the season.

"That is something that I am extremely proud of those guys for," Busch said.

The surprise story of the regional for Wabash was Jared Burris. The freshman was not in the original lineup for Saturday's meet, but unexpected circumstances placed the rookie squarely in the middle of Wabash's qualification for a second consecutive national meet.

"We had a situation, where a guy forgot his number back at the hotel, and we couldn't just give him a different number, because that would disqualify us as a team, so Jared found out about 15 minutes before the race that he was running. Because he didn't know that he was running, he had already run nine miles before the race even began.

"He was trying to get re-warmed up after sitting around for 15 to 20 minutes. I hope what eased his mind was that there were no expectations and that as long as he gave me everything he had and just crossed the finish line, that would be fine with me and we would roll with it."

Burris turned in a time of 26:12.40, good for 42nd place and enough points to secure Wabash of a second-place finish for two years in a row. Burris' time was 43 seconds better than his previous best mark. Burris finished only seven spots away from earning all-region honors.

McCarthy's regional title is the first by a Little Giant since 1995, a team for which Busch was a member.

"That group was a little different back in '95," Busch said. "We group-ran a lot of times, and had a different strategy.

"Kevin's journey has been a little different. He only ran one year of high school, so he has been a work in progress here. It's really hard to compare the times, but I think that in a footrace, he would have kicked our butt. We ran as a group, but he has had to do it on his own a lot.

He's a one-man wrecking machine, and that one point for winning was huge in a team setting."

Fresh off that regional title, McCarthy has been named the Great Lakes Region's Athlete of the Year.

Building off of the regional result, Busch has high hopes for what his team can accomplish at the national meet.

"The older guys on the team talked about team goals at team camp," Busch said. "They said at the beginning of the year that they wanted to finish in the top 10. As well as our seniors are running, I think we can sneak into that top 10.

"If we have a great race with Kevin in the top five and Brian in the top 30 with three or four guys right there behind them, we might be able to get seventh or eighth in the country, but if we have an off day, we could fall to 16th or 17th. We just need to go out there and run to our ability, and we will do very well."

McCarthy echoed his coach's thoughts about the team's approach to Saturday's race.

"We started with building a foundation by going to nationals last year," McCarthy said. "Now this has become an expectation. That was what we didn't have before. We didn't have the confidence of knowing we could be a national team, we just had a hope.

"What has really helped us is that towards the middle of the year we've been coming together as a group and focusing on working the last part of the race and staying confident in the second half of the race. That has really helped in our performances in the later portion of the season."

The Red Pack has one goal for Saturday's race — a top effort from every runner.

"I have my own personal goals and the other guys have their own goals," McCarthy said. "The most important thing Saturday is for each of us to cross the finish knowing we gave everything we possibly had. If we do that, I'm confident the results will take care of itself."