Wabash Hosts Illinois College in 1st Round
by Jim Amidon • November 13, 2011

Share:
The Wabash College football team will play host to Illinois College in the first round of the NCAA Division III Football Championship on Saturday, November 19 at 12:00 p.m. The Little Giants finished the regular season 10-0 after Saturday's 45-7 win at DePauw. The Blue Boys received an at-large bid with a 9-1 record and riding a six-game winning streak.
See the entire Division IIII Playoff bracket here.
Saturday's playoff match-up will be just the fifth time the two schools have played and the first time since 1950. Wabash won three of four games played in the series.
Illinois College ended its season on November 5 and finished second in the Midwest Conference. When the Blue Boys travel to Crawfordsville, one of the nation's top offenses will clash with Wabash's defense, which was dominant in 2011.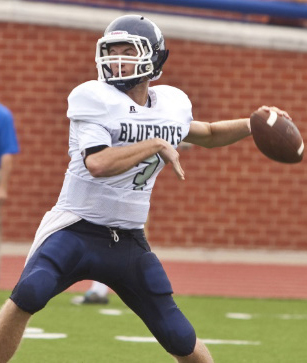 The Blue Boys' offense packs a punch — averaging over 40 points and almost 500 yards per game. Freshman quarterback Michael Bates (right) is a dual threat. The Auburn, Illinois product is a 62 percent passer who has thrown for over 2,900 yards and 28 touchdowns, and he's run for another 468 yards and four scores.
Eight players have caught 10 or more passes, but none are as dangerous as senior Brock Thompson (below left), whose 69 catches and 12 touchdowns lead the team. Juniors Colin Duling and Kevin Wallace have 40 and 34 catches, respectively, and have combined for another nine touchdowns.
Illinois College boasts two excellent running backs, including sophomore Cecil Brimmage, who rushed for 1,062 yards and 10 touchdowns this year and averaged 7.4 yards per carry.
The Blue Boys have scored more than 34 points in every game but one — a 55-14 loss to playoff-bound Monmouth College. The team has averaged more than 46 points in its last six wins.
Coach Garrett Campbell's team has given up a lot of points — 320 — but employs a ball-hawking defense and has won close games. The team opened the year with an overtime win at Millikin and sneaked away from Ripon with a one-point win.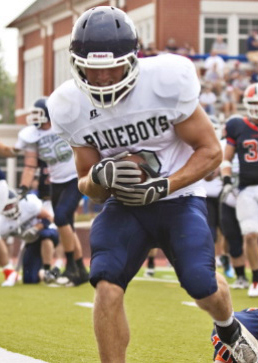 Senior Eric Fisher has six interceptions to go with 70 tackles. Junior Dylan DeFauw has five, and the team has picked off 20 passes on the season. DeFauw's brother, Jake, is a 6-0, 210-pound senior linebacker who leads the team with 88 tackles.
Defensive lineman Stephan Odarczenko (6-4, 250) leads the team with 5.5 sacks. Sophomore linebacker Carter Cox has 75 stops on the year.
Wabash finished the regular season with a 45-7 win at DePauw in the 118th Monon Bell Classic. The Little Giants' defense forced five turnovers and scored three times in Wabash's third straight win in the historic rivalry.
Wabash is participating in the NCAA Football Championship for the seventh time. Illinois College qualified for the first time in school history.
Tickets for the game are $8 for adults and $4 for students, and will be sold at the gate, which will open at 10:30 a.m. Kickoff is at 12:00 p.m. Wabash students will have their tickets paid for by the Student Senate and will need to enter the main will-call gate off of Jennison Street to gain admittance to the stadium.

For those unable to attend the game in person, a live video stream will be provided free of charge by Wabash College. The game can be viewed at sports.wabash.edu/video/WabashTV. Joe Emmick, Steve Hoffman, and Mark Maxwell will serve as the announcers.