9-0 No Guarantee in Monon Bell Battle
by Howard Hewitt • November 11, 2011

Share:
Wabash and DePauw have proven historically that records mean nothing for the 118th battle for the Monon Bell. Wabash will enter 9-0 for the third time in the last five years. DePauw won the first two times that happened. Of course, last year it was the Tigers traveling to Crawfordsville at 9-0. It's unlikely DePauw team members have forgotten the 47-0 final.
The 9-0 Little Giants and 4-4 Tigers will kick off just past 1 p.m. Saturday at DePauw's Blackstock stadium in front of a sellout crowd and national HDNet television audience. See national viewing parties here. View Erik Raeburn's weekly football show and comments about the game in the video at the bottom of this page.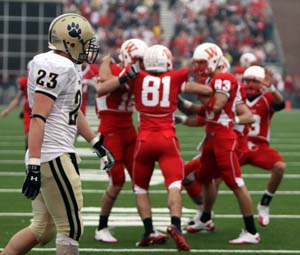 "My experience is that the undefeated team has little to no chance in winning this game," Wabash Coach Erik Raeburn said of the 2010-2011 role reversal. "This will be my fourth Bell game; twice there has been a 9-0 team, and twice they have lost. Our guys know that with the intensity of the rivalry that you throw out the records and that is the big cliché, but it has held true and that's why this rivalry is so good: it's been so even.
"Our guys know that just like last year, we were disappointed in the way a couple of our earlier games had turned out, but when that happens, one way to salvage your season is to win that Bell game. There is certainly a lot more motivation that goes into that when you are put in that situation. They know that the guys at DePauw certainly feel that way and would feel a lot better about their season if they win on Saturday. Our guys understand that."
Tiger Coach Robby Long has had a difficult year at 4-4 with significant graduation loss last year, an awkward conference transition to the NCAC, and injuries. The Tigers are on a three-game winning streak.
"This is the biggest rivalry in state of Indiana," Long said. "And some people can argue it's the biggest rivalry in the country. It's why these kids come to Wabash or DePauw. To say that this week is no different isn't the truth. The thing you have to do is balance and prepare for your opponent, versus the emotions and all the things that go into a game like this.
"To be playing this game for as long as we have and the rivalry being as tight as it is, you have to make sure the emotions don't take over. There are two great teams going out there Saturday and we have to be prepared for a great Wabash football team. We're not out there playing against the crowd or history, we're out there playing against a good Wabash football team. We've got to be prepared to be successful."
For Wabash, already assured a spot in next week's NCAA playoffs regardless of the Bell outcome, it's also a chance to record the College's fourth undefeated regular season. The Little Giants have entered the Bell game unbeaten eight times but emerged with a win in just three of those games.
The Little Giants are also coming off a huge win over Wittenberg, recapturing the NCAC championship and the playoff berth.
"That was a concern of ours to have a big emotional game and win the conference, achieve one of your team goals," Raeburn said. "You are always worried about there being a let-down. We felt like this is about the only week where that is not as big of a worry. I think the magnitude of the game and the intensity of the rivalry, I don't think we have to worry about the guys being able to put the Wittenberg game behind them and being able to focus."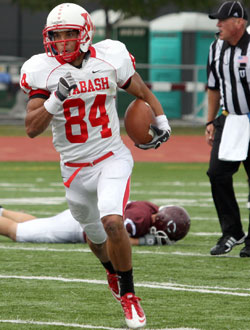 The story lines for this year's game are fairly easy to identify. Wabash's defense has been dominant, including keeping Wittenberg quarterback Ben Zoeller under constant pressure. The Little Giant offense has to play with consistency and be able to run the ball. And how will the Tigers elect to deal with Wes Chamblee returning kicks?
"If you can run the football, you are going to get some good matchups," Raeburn said. "The touchdown pass to Wes (Chamblee) last week was a result of one-on-one coverage. They had to totally commit to stopping the run and we got Wes lined up one-on-one and he ran a good route and Chase got him the ball. Had we not had success running the ball, that particular play would have never happened because there would have been a safety right there. We were on the field a lot offensively. We didn't put up a lot of points and finish those drives, but their offense was on the sideline for a big portion of the game, so that helped our defense."
DePauw's defense has performed well throughout the year but the Tigers have struggled on offense because of graduation and injury at the quarterback position. The top two quarterbacks are out with injuries. Senior Will King started last week and is likely to be behind center Saturday. The other available quarterback is sophomore Drew Seaman. King was 7-of-16 passing for 69 yards last week in a 7-3 win over playoff-bound Albion.
"Not knowing who your quarterback is going to be week in and week out has been tough. It's kind of living pay check to pay check," Long said with a laugh. "It's not easy. It's not a knock on the guys who are your second, third, and fourth string quarterbacks, but you'd like some continuity at that position and we haven't been able to do that. Will (King) has done a good job of stepping up. He's a senior who has stuck it out and waited for his turn and now his turn is here."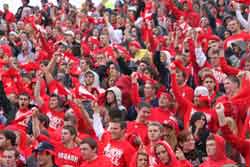 Wabash counts on several freshmen on defense. But the talented recruiting class has been up to the challenge. "We have had Denzel Wilkins, A.J. Akinribade, Cody Buresh, and Houston Hodges playing a ton for us defensively. All four of them are freshmen and will be playing in their first Bell game.
"I know as a coach, I felt a lot more comfortable in my second Bell game than in my first. When you have played in the game and are used to the size and intensity of the crowd and the noise that you don't typically deal with on a week-to-week basis, the guys who have played in the game before have an advantage. Hopefully after a few plays, they will get settled in and do the things they have done all season long to help us win and manage the extra emotion that goes along with this game."
Even though the story lines are clear, the end result seldom reflects conventional wisdom. Evidence is easy to find in Wabash's two losses at 9-0 and the beat down Wabash put on the Tigers last year. Or you can look back 10 years and remember a certain Jake Knott to Ryan Short to Kurt Casper "Monon Miracle" with 2.7 seconds on the clock.
It's the Bell Game. Throw out the records and throw out tendencies.