'The Catch' - Ten Years Later
by Ryan Lutz '13, The Bachelor • November 9, 2011

Share: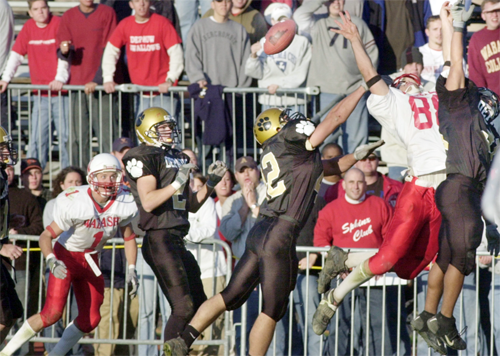 This Indianapolis Star photo shows Ryan Short tipping the ball back toward Kurt Casper who was waiting in the endzone. See video at the bottom of the page.
From the 11-11-11 Issue of The Bachelor - Ten years ago history was made. It has been called "The Monon Miracle" or "The Catch" and numerous other phrases. None of them however, can do justice to what happened that day.
It was the Monon Bell Game and the ball was on the 48-yard-line with just under three seconds to go; Jake Knott rolls out of the pocket and throws the ball to All-American tight end Ryan Short. Short tipped it backwards to teammate Kurt Casper who caught it in the end zone as the clock ran out, without a single Dannie around him.
"It was my last game at Wabash," Casper said, "and it was the last time I would play. I couldn't ask for a better ending."
Knott remembers every detail. "There was this overall sense among the team that the day was going to end up alright. Even when we had the ball with less than three seconds left, the team had a sense of calm. Like we knew we were gonna be ok."
At that point in the rivalry DePauw had won the Bell for five straight years. Those final seconds of the game would not only bring the Bell back to Wabash, but would start Wabash's era of dominant hard-nosed football. Beating DePauw and making playoffs became an expectation that had to be met every year.
"Before that play happened Coach was running up and down the sidelines yelling 'You gotta believe, you gotta believe' he wasn't just yelling at us either. Coach was shouting at the crowd to getting everyone in the game" Knott said.
Since then Wabash has taken that momentum from the win, and hasn't looked back. The Little Giants' Bell game record is 7-3 since 'The Catch.' Wabash has made the playoffs five times since then. Six if you include this year.
"We practiced that play every week" Short said. "We actually had a really good success rate with it in practice. To pull it off in a game was something else though. Once he caught it I heard a massive explosion from the crowd, and it was sheer euphoria."
In the years that have followed the Monon Miracle Wabash football has become a dominant force in the NCAC. As for the big three involved in that piece of Wabash History, Casper, Knott and Short have each gone on to establish themselves in the professional world. Casper works for a Pharmaceutical company, Knott works for Merrill Lynch in their private banking and investment sector, and Short is a special education teacher for Plainfield High School as well as a football coach.
It's often scary for athletes to contemplate their future after their final game, especially when you leave the game like these three did.
"I think the biggest thing I could tell anyone is to appreciate the opportunities that you have been given, because there are alums who would give anything to come back in and play," Short said.
Playing football for Wabash College is an experience. Every player who has put on that red and white uniform becomes a part of something that is truly great. "It basically personifies the small school sports atmosphere," Casper said. "It's awesome to see how important this game is to everyone involved."
"Everyone pays attention to this rivalry," Knott said, "I like going to the game to find out who our big stage players are. I mean in big games like Monon some guys perform and some guys fold. I want to see our guys rise to the occasion."
The Bell Game is something that alums talk about forever, just look at Short, Casper and Knott. This year all three of Wabash graduates will be in attendance, wearing the red and white as our Little Giants take the field to face the DePauw Tigers.