Fudan Visit Yields Possible Exchange
by Gary Phillips, Dean of the College • October 19, 2011

Share:
Shanghai — After a 14.5-hour direct flight from Chicago to Shanghai we were greeted upon arrival by Hao Liu, '2011 and his co-worker Ms. Zi Hu. Hao escorted us to the Crown Plaza Fudan and from there to a near-by restaurant where we talked about matters Wabash and China, international studies and business entreprenurialship, economics and Chinese food. Hao has begun a company that recruits Chinese students and American liberal arts professors to an innovative summer studies program that will expand to four major Chinese cities next summer. Working with Chinese universities, including East China Normal University in Shaghai, Hao serves as a broker to marry liberal arts teaching with Chinese student interest and need. We have come to find out that Chinese educators are keen to learn more about liberal education and to transform current Chinese practices in ways that learn from the indigenous US liberal arts model. Caleb Mills would be most proud.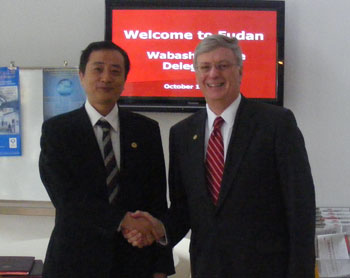 Kay Widdows, Qian Pullen, Pat White and I met today for 3 hours with Fudan University officials to discuss a collaboration that would lead to student and faculty exchange between the two institutions and Fudan faculty coming to the Center of Inquiry in the Liberal Arts to investigate American liberal arts practices. Fudan Vice-President Fang Lu headed the Fudan delegation along with Lizhu Fan, Dean of the Center for Social Development and Professor of Sociology (my counter part); Prof. Zhang Yi, Director of the International Student Office; Prof. Li Hong, Director of the International Exchange Section; Prof. Liu Li, Director of the Foreign Affairs Office and; and Prof. Liu Ye, Vice-President of the Fudan Educational Development Foundation. Pat and I first met Vice-President Liu three years ago in New York City on the occasion of Fudan's launching of its US Alumni and Advancement Office. Fudan has 10,000 alumnae currently living in the US. Prof. Liu returned to Fudan from the US just to meet with us. Dean Fan is a scholar of Chinese religion and has worked with colleagues at Notre Dame on the place of religion in Chinese culture. Already the wheels in my head are turning about ways to parlay that expertise into a collaborative teaching opportunity for her at Wabash.
In photo above right, Fudan Vice President Lu and President White after agreements are reached on faculty and student exchanges.
The meeting exceeded all of our expectations. Vice-President Fang has specifically requested that we begin a conversation about ways to bring Wabash faculty and students to Fudan and Fudan faculty and students to Wabash next summer. Fudan is interested in the Wabash student culture, in particular the way fraternities work in support of student life; the Gentleman's Rule; and the nature of single-sex education. "Fudan" literally means "heavenly Light shines day after day", which translates practically into "inexhaustible self-reliance and industriousness." Pat immediately connected this to the spirited "Wabash Always Fights" and our pride in educating young men to think for themselves and to become leaders in their community and nation. The Fudan delegation shared with us the growing concern among Chinese educators of the "plight" of Chinese males and the search for successful educational models for engaging young men in college in ways that lead to success. This was music to our ears. During the lunch that concluded our meeting, three of the officials confided that they they wanted to find a way to bring their sons to Wabash. Of course, we took their names and promised Steve Klein would be in touch with them soon. The great irony was not lost on us that at a time when the liberal arts is under pressure in the US to give way to narrow practical, job-focused training, the Chinese are looking to introduce the liberal arts so as, as Vice-President Fang said "to enable Chinese students to think broadly not narrowly."
What do the Chinese see that seems obscure to our own countrymen?
Our wider discussion of the liberal arts, the Center of Inquiry and its assessment expertise, and the Wabash spirit of student-focused, student-led teaching and learning made us aware that Wabash College with its 910 students and 76 faculty indeed has something to offer to Fudan with its 40,000 students and 2800 faculty, and their fantastic opportunities for language instruction and cultural studies has something to offer Wabash students and faculty int his city of 20 million. The possibilities are enormous, and they are ready to begin immediately, this summer! We were invited to bring students and faculty to Fudan next June as participants in the inaugural Shanghai Summer School program that will focus on language instruction (at all levels) and coursework in the full range of liberal arts subject matter. Wabash faculty participating in the Mellon Grant Program now have an anchor and home for their work that could be most exciting.
Fudan is in the first year of a liberal arts college experiment where they seek to develop discussion-based pedagogy and to encourage student self-reliance and individual responsibility for learning. This giant Chinese institution sees in Wabash a collaborative partner from whom they can learn. We would join the ranks of other US universities that include Rice, USC, Columbia, Trinity (CT) and Washington University (St. Louis) as American partners. Not shabby company.
Qian Pullen has been an extraordinary guide and interpreter for our group, shepherding us through the maze of Chinese customs and protocols. The trip would not have been possible without her and Kay Widdows' labor. We are exceeding fortunate to have both guiding what will be an exciting Asian Studies venture and adventure at Wabash that is now beginning to unfold. Pat has led impressively, as seen in the photos with Vice-President Fang.
Kay is our official photographer and has captured several important moments, including our meeting with the Fudan delegation before the giant statue of Mao Zedong that stands at the entrance to the Fudan campus.
Fudan is populated by many cats who run free across the camps. There is a running joke and play on the word "Mao" that our Fudan guests shared with us. "Mao" translates "cat." So it was only fitting that we take a group photo with one of Fudan's famous felines at the foot of the "Big Cat." The homophonic play between "meow" and "Mao" evoked much laughter.
Laughter and generosity, shared concerns and interests. A great discovery and start. So all-in-all a fantastically positive and exhausting day at Fudan. We expect to hammer out a detailed agreement after we return home. Most certainly a Wabash delegation will return in June to cement the arrangements and what we hope will be the beginning of a longterm relationship with a flagship Chinese university that seeks to learn more about liberal arts learning practices from a small Mid-western college in the cornfields of Indiana. Who would have thought.