Agents Honored for Service at 2011 Forum
by Jim Amidon • October 1, 2011

Share:
Jon Pactor from the Class of 1971 and the leaders of the Class of 2005 earned top honors during the 2011 Class Agent Forum at Wabash College.
Held during Homecoming Weekend, the Class Agent Forum brings together class representatives from six different decades to attend workshops and presentations, including a state of the College address from President Patrick White.
"For if one of the great strengths of this College is the loyalty of the alumni, and we all know that to be the case, then you are one of the great strengths of that strength," said President White. "You are the great strength that binds us together. For you are the most important stewards of the College's relationship with its alumni."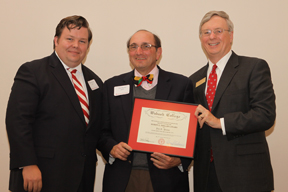 During Friday night's Class Agents' Banquet, Pactor received the Myron G. Phillips Outstanding Class Award, which is named for the man who conceived Wabash's Class Agent system 56 years ago. Phillips served Wabash as student, professor, alumnus, assistant director of admissions, and director of alumni affairs. It is given annually to the Class Agent or Class Agents who perform all of their duties most admirably.
Pactor has been a stalwart communicator and reunion planner for the men in the Class of 1971, and has been steadfast as a volunteer with the TKE house, WABASH Day, and the Alumni-Faculty Symposia.
Thirteen members of the Class of 2005 comprising the Class Committee were honored with the R. Robert Mitchum Award, which honors excellence in communication, student recruitment, class financial contributions, and Little Giant Spirit. Saluted were Sam Brotman, Beau Browning, Hector Bustos, Jason Cantu, Mark Dietzen, Nathaniel Dinger, A.J. Lyman, Andrew McCoy, Brock Medsker, Tom Reifenberg, Michael Ruffing, Zach Sundstrom, and Matt Tanney.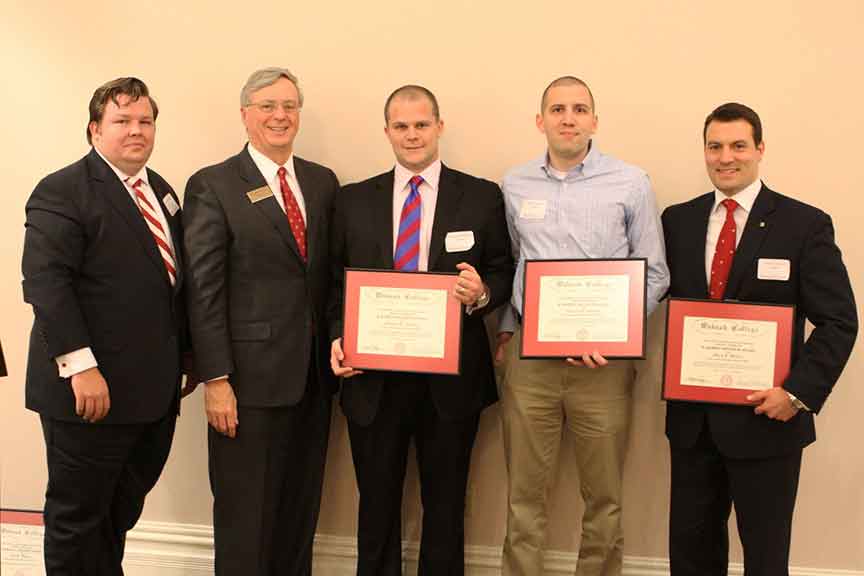 Dietzen, Ruffing, and Tanney accepted the award on behalf of their classmates, who formed a "class committee" when previous efforts to communicate were unsuccessful. They rallied their classmates to one of the largest donor participation increases on record.
"All you do, to some, is write the class agent letter, but in so doing you draw the circle of Wabash together," President White said in praise of Wabash's great volunteer leaders. "You make us strong. And in so many ways you reach out to help us to remember, to recall why we love this College, why you love and honor your classmates, and why staying together as Wabash really matters."
Scott Medsker '03 served as master of ceremonies at the banquet, where Class Agents were welcomed by the President White and listened to Student Body President Steven Henke '12 talk about Wabash in 2011.
President White also took a moment to acknowledge the work and leadership of Joe Emmick '92, himself once a Class Agent, who has served Wabash as Dean for College Advancement since 2003. Dean Emmick will become the Vice President for Development and Alumni Relations at Elmhurst College on January 1. The Class Agents gave him a hearty standing ovation for his commitment to the College.
On Saturday, the alumni volunteers received an update on the College from President White, who also gave a progress report on the Challenge of Excellence, which has surpassed $43 million toward its $60 million goal.
They also heard presentations from Joe Haklin '73, Director of Athletics and Campus Wellness; Associate Dean Michael Brown, Director of the Malcolm X Institute of Black Studies; Dean of Admissions and Financial Aid Steve Klein and Assistant Director Will Arvin '08; Scott Crawford, Director of the Schroeder Center for Career Development; and Dean of the College Gary Phillips.
More News
---
---
Related
---
Photo Galleries

2011 Class Agents Forum

2011 Class Agents Forum