Students Will lead Mid-Autumn Moon Festival
by John Dykstra '13 • September 20, 2011

Share:
The International Students Association (ISA) will be doing a campus-wide celebration of the Chinese Mid-Autumn Moon Festival at 6 p.m., Thursday, on the Mall. ISA students will be running a variety of stations that will teach the Wabash community a variety of Asian customs.
"It is going to be a great event, especially for Wabash," said President of the ISA Huy Anh Le '13. "Maybe the Wabash community is not so familiar with exotic cultures, such as Asian cultures for example. I think this event is a good way to engage everyone in a variety of cultures and to expose American students to a culture they have never experienced before."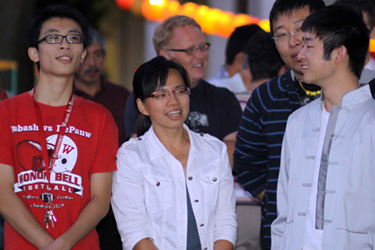 At the Festival, members of the ISA will be hosting a variety of events that draw an emphasis on several different cultures. Those attending will learn how to make Chinese dumplings from raw materials and then make the dumplings themselves.
Charles Wu '15 will be teaching tea drinking customs that apply more specifically to China, but all of Asia in general as well.
Vietnamese students will be performing a bamboo dance. Nguyen said the bamboo dance "is the ethnic minority dance of Vietnam and is popular in traditional performances."
Likai Yan '15 will be running the Chinese calligraphy station along with fellow ISA freshmen. They will be asking attendees what their American names are and will teach them how to write their names in Chinese.
All the Chinese history and language classes will be doing a special performance under Professor Ssu-Yu Chou and Dr. Qian Zu Pullen.
"Chinese classes are all performing original Chinese songs with the participation of American students," Nguyen said. "This is very important, because there are a lot of American students taking Chinese courses. In fact, I am the only Asian studying Chinese in my class."
DePauw will be sending members from their ISA to participate.
Dr. Pullen sees the event as an opportunity for the ISA to promote itself and to imbed the upcoming Asian studies program within the Wabash community.
"We are building an Asian studies program and we don't want to isolate this program just for people interested in Asia or students from Asia; we want to make it as part of the Wabash community, which is to bring it to everyone's attention and appreciation and inspire more interests," Pullen said. "This is why I see this event as an advertisement for both Asian students and this program. This is something not just for international students; it is part of the Wabash community."