Watson, Warner Named to Prestigious Chairs
by Jim Amidon • September 7, 2011

Share: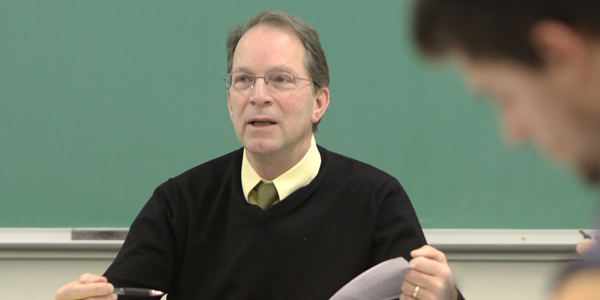 Two Wabash College faculty members received promotions to prestigious chairs in their academic divisions. Dean of the College Gary Phillips announced at Tuesday's faculty meeting that long-time theater professor Dwight E. Watson has been named the Charles D. and Elizabeth S. LaFollette Distinguished Professor of Humanities and historian Richard R. "Rick" Warner has been named the Daniel F. Evans Associate Professor in the Social Sciences.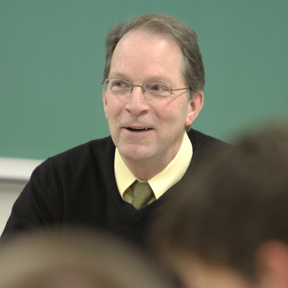 Professor Watson is the fifth member of the faculty to hold the LaFollette Chair following Eric Dean, Raymond Williams, William Placher, and Leslie Day.
Watson, who has taught over 40 different courses since his arrival at Wabash in 1981, earned his undergraduate degree from North Carolina-Pembroke and received his master of fine arts degree from North Carolina-Greensboro.
"I am enormously fortunate and grateful," Professor Watson said. "As a former Division Chair, I have studied the portfolios of many of my younger colleagues, and I know firsthand the talent and dedication that they bring to the classroom and to their fields of study. My older colleagues, faculty and staff, are a constant source of amazement, friendship and inspiration. As for the previous holders of the LaFollette Chair, I feel a little uncertain about placing my name in that well-regarded group. In recent days, however, I have thought about these individuals and how they have shaped my life and work at the College. In very different and positive ways, they have all been great mentors."
The LaFollette Chair ties together the threads of excellence in teaching, engaged support and service to younger scholars, and humanistic research and scholarship with national and international significance for the College.
"Dwight exemplifies these aspects of the chair in powerful ways," said Dean Phillips. "He is regarded by students and colleagues alike as intellectually demanding and accessible, one who challenges and inspires students in word and deed to act as liberally educated men. He also generously mentors younger colleagues by modeling for them the rigor of self-questioning and attentive listening and whose unassuming manner is matched by a readiness to wrestle with and pose to his faculty colleagues the most telling questions."
Professor Watson regularly teaches all-college courses and has served administratively as Chair of the Theater Department three times and twice as Chair of the Division of the Humanities and Fine Arts. While at Wabash, he has directed more 40 plays, and he has authored scores of book chapters, plays, reviews, invited lectures, and public presentations. He has led Wabash students on immersion learning trips to New York City, England, Scotland, and Germany.
Watson has created and taught 24 different seminar courses, and regularly teaches dramatic literature, playwriting, acting and directing, and theory and criticism.
Playwriting credits include The Gazing Ball (forthcoming), Hopper and Pete at High Noon, Dapple Gray, The Newton Monologs, Eden Creek, Diamond City, Dewey Boy and Wookie, Hattie B. Moore, The Piano Tuner, and an adaptation of Eudora Welty's short story, The Petrified Man. In 2010, Watson and his students presented a staged reading, "Passages from the Writings of Roald Amundsen and Robert Falcon Scott," at the Race to the End of the Earth Revisited program at the American Museum of Natural History in New York.
In addition to many honors for his playwriting, Watson has received the McLain-McTurnan-Arnold Research Fellowship and an Individual Artist Master Fellowship from the Indiana Arts Commission and the National Endowment for the Arts.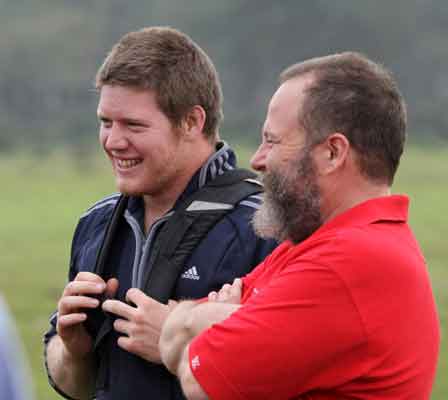 Professor Rick Warner is the seventh person to hold the Daniel F. Evans Associate Professorship in the Social Sciences since its establishment in 1995.
"To be named the Daniel F. Evans Professor is a great honor, one that I am humbled by," said Dr. Warner. "I did not know Dan but have heard plenty of stories about this Wabash giant from more mature faculty at the round table in the Scarlet Inn. His commitment to Wabash was powerfully strong, and similar to others who have passed through here such as Paul McKinney and Bill Placher. I feel energized to take my research on Mexico and World History to the next level, thanks to the research and development fund, as well as the encouragement that such an honor naturally bestows."
Dr. Warner came to Wabash as a visiting professor in 1999 and received tenure in 2008. During what was to have been his sabbatical year, Warner stepped in to serve as Associate Dean of Students at the College. He earned bachelor's degrees in religious studies from the University of Vermont and in history (with honors) from the University of California-Santa Cruz. He earned his master of arts degree and Ph.D. in history from UC-Santa Cruz.
Prior to his arrival at Wabash, Dr. Warner taught at UC-Santa Cruz and at the University of Utah. He teaches a wide range of courses — from world history to the history of food — but specializes in Latin American history.
"Rick is already providing intellectual leadership through much-respected teaching and scholarship that is changing instruction in his department, division, and across the College for students and faculty alike," said Dean Phillips in his announcement. "In heavily subscribed courses, he leads students through immersion travel and historical study. He shows the necessary relationship between empathy and intellect, historical consciousness and moral conscience. Whether in the study of religion or corn, whether in Kenya or Mexico, he demonstrates how the liberal arts are an engagement across disciplines, national cultures, and human communities."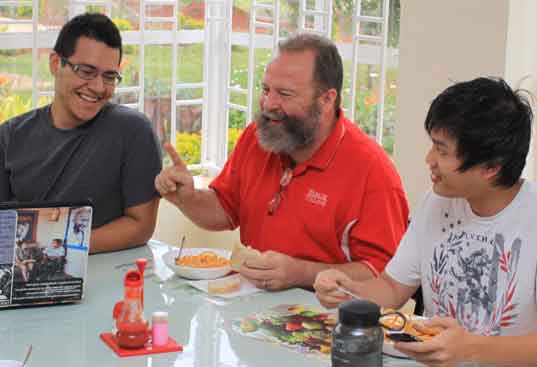 The Evans Chair is named in recognition of Daniel F. Evans, Wabash Class of 1943, who served Wabash as a trustee, treasurer, and from 1992-93 as CEO of the College. The Chair recognizes a professor whose teaching and scholarship are admirable and effective, and whose intellectual leadership promises to affect the quality of instruction in his or her discipline and across the College. The holder of the chair is to be a person who has an encouraging and inspiriting effect on the entire faculty.
Dr. Warner helped to develop Wabash's current immersion learning program, and has taken numerous classes on trips around the globe, including last summer's two-week immersion in Kenya. He chairs Wabash's Off-Campus Study and International Studies committees, and is co-chair of the College's Teacher Education Committee.
"What I like most about teaching at Wabash is the sense of community," Warner said. "This is not a job, it is a large family-style community. I like that learning only begins in the classroom, and heads out from there into living units, professors' offices, lunch conversations with staff, and now, overseas. As good as a classroom experience can be, and as necessary as it is to the learning process, the classroom is just a spark. And of course I am quite thrilled with the energy level of Wabash students. When they first arrive they are not given to thinking widely and creatively perhaps, but all of the successful students here exhibit an impressive diligence. It is easy to work with that to take education anywhere you want to go."
He has written approximately 30 articles, reviews, and invited conference papers, as well as a number of encyclopedia entries. He has received a dozen grants to support his research and course development.
"Wabash bestows named professorships as a special way to honor a faculty person's significant contributions to the life and mission of the College," said Dean Phillips. "Rick Warner and Dwight Watson are most worthy recipients because they have changed student lives and enriched our community by their many talents. And they will continue to do so. Rick and Dwight are quintessential Wabash teachers, and I am deeply privileged to call them my colleagues."