Bricker Assists on Award-Winning Film
by Jim Amidon • July 14, 2011

Share:
Michael Bricker '04 was many things as a Wabash student — artist, designer, editor, writer — and now as an alumnus, he continues to showcase his creative talents.
After earning a master's degree in architecture,
Bricker
returned to Indianapolis, where he formed People for Urban Progress, a company that among other things, recycled the old roof of the RCA Dome into practical and fashionable items.

His career has taken him into new directions, too, and he's an emerging production star in the motion picture industry.
A year ago, he served as Production Designer on the feature film Natural Selection, which will be screened twice at the Indianapolis International Film Fest later this month. Natural Selection will be shown on Sunday, July 17th at 6:45 p.m. and Thursday, July 21 at 7:00 p.m. at the Indianapolis Museum of Art. Tickets can be purchased online.
"This is by far one of the best things I've worked on," said Bricker, who taught art at Wabash in the spring semester. "The process was like any film — hectic, crazy, never enough money, time, or sleep. While we were shooting, though, we knew this one was going to be good. The script, camera, and performances create a universe that is at once believable, dark, and charming — you can't help but get sucked into the story. It's a true independent film."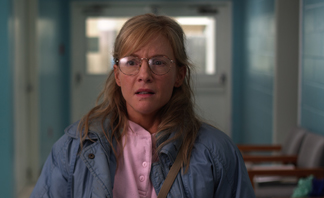 Natural Selection
was shot in spring 2010 in Smithville, just outside Austin and has generated buzz all across the country, winning in seven 7 categories at the South by Southwest Film Festival (SXSW), including Best Narrative Feature. It has also been featured at EbertFest, as well as film festivals in Los Angeles, Seattle, and Little Rock, among others.
Natural Selection features Rachael Harris (The Hangover, Diary of a Wimpy Kid), Matt O'Leary (Brick, Spy Kids), and Jon Gries (Napoleon Dynamite, Lost). It tells the story of Linda White, a barren Christian housewife, who leads a sheltered existence in suburban Texas. Her world is turned upside-down when she discovers that her dying husband, Abe, has a 23-year old illegitimate son named Raymond living in Florida.
Somewhere on the edge of guilt and loneliness, Linda grants Abe's final wish and sets off on a quixotic journey to find Raymond and bring him back before her husband passes away. Along the way, Linda's wonderfully bizarre relationship with Raymond will teach her more about herself than she ever imagined possible and force her to come to terms with her troubled past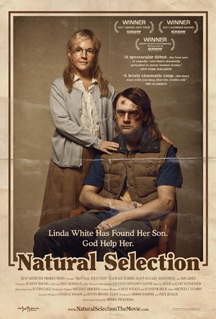 Robbie Pickering wrote the screenplay and directed the film, while Steve Calitri served as cinematographer.
"As the production designer, I worked closely with the cinematographer and director to shape the visual landscape of the film," said Bricker of his work. "More specifically, I oversaw the environment in which the characters lived. A script might just say 'HOUSE - DAY', so it's my job to determine what type of house, how it's decorated, what this character owns, and how a particularly location/set fits into the story overall. Once we make these decisions, I have to make sure everything is ready and in place before the camera shows up."
For more information, see the Natural Selection website.
Bricker also has production credits on four other films — My Name Is Jerry, Backroads, The Cassidy Kids, and Starry Night.