Wabash Receives $6.2 Million Grant
by Jim Amidon • July 12, 2011

Share:
Wabash College has received a three-year, $6.2 million grant from Lilly Endowment Inc. to support the work of the Wabash Center for Teaching and Learning in Theology and Religion through 2015.
Founded on the Wabash campus in 1996 and wholly supported by Lilly Endowment since that time, the Wabash Center enhances and strengthens the quality of teaching in theology and religion. This is the eighth grant — totaling over $40 million — Lilly Endowment has awarded to the Wabash Center.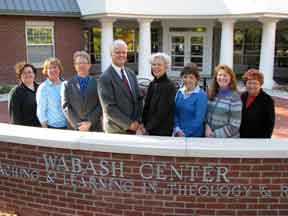 "Wabash College is immensely grateful for Lilly Endowment's vital and generous support of the Wabash Center for Teaching and Learning in Theology and Religion," said Wabash President Patrick E. White. "The Center continues to be a crucial force in shaping a community of discourse on teaching and learning for hundreds of faculty in theology and religion at the nation's seminaries, liberal arts colleges, and research universities."
The Wabash Center provides workshops and colloquies for faculty members, supports institutional initiatives that enhance local educational environments, and provides resources for good teaching and effective learning.
Since its founding, over 900 faculty members have participated in workshops and colloquies on the Wabash campus, and the Wabash Center has awarded over 1,000 grants to more than 275 institutions and 500 individuals totaling nearly $12 million. It has held over 90 conferences on issues of teaching and learning and held 135 pedagogical consultations on higher education campuses across the United States and Canada.
The Wabash Center's peer-reviewed journal, Teaching Theology and Religion, has published 374 articles from 479 authors.
"Under the leadership of Dr. Nadine S. Pence and her talented and gracious staff, the Wabash Center fosters conversations that enrich the life of the mind and spirit throughout the country," added White.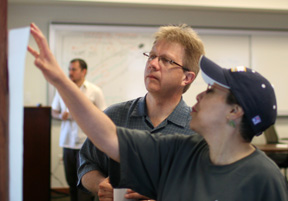 "The work at the heart of the Wabash Center is its exploration of best practices in teaching and learning," said Pence. "Because current training within doctoral programs is heavily focused on the research component of a discipline, faculty who are new to the teaching profession often need help thinking about the pedagogical aspect of their jobs. Our strategies honor the profession of teaching and introduce faculty to a variety of classroom practices that place student learning at their core."
"Faculty members constantly tell us that participating in the Wabash Center's programs has significantly enhanced their classroom teaching, as well as the learning of their students," said Craig Dykstra, senior vice president for religion at Lilly Endowment. "Moreover, as increasing numbers of the Center's participants are becoming deans, department chairs, and senior faculty leaders, the knowledge and skills they learned at Wabash are having a powerful and positive influence within the institutions they serve, and on among theological schools nationwide. The Wabash Center is having a major impact on theological schools' capacities to prepare a new generation for excellence in pastoral ministry."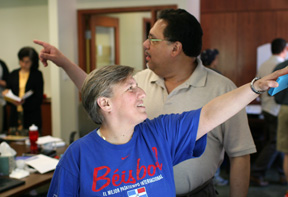 "Within professional circles concerned with the study of theology and religion, the Wabash Center's name is coterminous with teaching excellence, intellectual rigor, collaborative learning, and, above all, hospitality that invites teachers to learn and inspires learning that changes students lives and institutional practices," said Dean of the College Gary A. Phillips.

The Wabash Center staff comprises. Pence; Dr. Paul O. Myhre and Dr. Thomas Pearson, associate directors; Rita J. Arthur, coordinator of grants; Sherry Wren, coordinator of communications; Patricia Overpeck, meeting coordinator; Beth Reffett, administrative assistant; and Karen Myers, copy editor.

"Wabash College is proud to be the home of the Wabash Center and celebrates the wide impact of its work in transforming teaching and learning, work that resonates with and enhances the mission of the College," said White.




For more information see: