Students Begin Kenyan Immersion
• June 13, 2011

Share: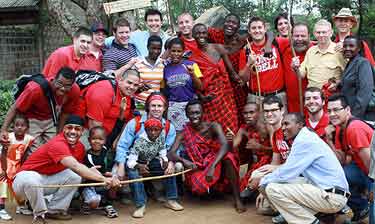 Wabash learning continues in June with 17 students visiting Kenya. Professors Bill Cook and Rick Warner team taught a class this spring that culminates with a visit to Capuchin Franciscan Friars in Nairobi, Kenya. Public Affairs' Steve Charles has photos from the weekend.
The group arrived Saturday evening in Nairobi. The group started its day at Sunday Mass at Starehe Boys' Centre in the school chapel. They then traveled to Ruiru for Pentecost Mass animated by the Youth at St. Francis of Assis Catholis Ruiru.
Check out the weekend photos here, here, here, and here.