Class of 1961 Shines as Sun Sets
by Jim Amidon • June 4, 2011

Share:
As the sun set on the campus of Wabash College Friday night, the men of Class of 1961 shined brightly at their 50th class reunion. Over 60 members of the class returned to their alma mater to celebrate each other and remember the College that shaped them.
Friday's Big Bash Banquet attracted nearly 500 alumni and family members, but the spotlight was focused keenly on the Class of 1961.
See pictures of the evening here.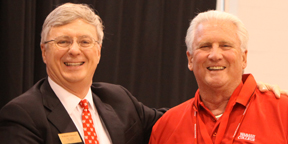 "The great lesson of our gathering together for Big Bash is that Wabash is not just a short-lived experience you had five years ago or 50 years ago," said President Pat White (pictured with Class Agent J.B. Bachman).
"Wabash travels with you wherever you go, because the College shaped you and is a part of who you are… In coming back to Wabash you experience one of this great College's most fundamental truths — that the liberal arts education of Wabash comes from your being young men together and learning not only from the great teachers and the great books, but from one another."
Master of Ceremonies Tom Runge began the evening with a few special tributes. He thanked President White for attending Big Bash on the very same evening his own Class of 1971 was celebrating its 40th reunion at the University of Chicago; it was the first class reunion the president had ever missed.
Runge also recognized Hall of Fame Basketball Coach Bob Brock, who was a guest of the Class of 1961. Brock coached the players in that class to three straight NCAA tournaments. The Class of 1961 includes two other Hall of Fame greats — Charlie Bowerman, perhaps Wabash's most-outstanding offensive player and Jim Cumming, who was one of Wabash's all-time great rebounders.
Runge thanked the Class of 1961 Reunion Committee for doing such a great job organizing the 50th class reunion — from Class Agent J.B. Bachman's coordination to Denny Sheridan's leadership of the 50th Reunion Gift Campaign to Sam Hildebrand's on-the-ground efforts in Crawfordsville.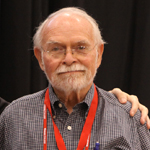 Bachman was the first to receive his commemorative 50th reunion medallion from President White. He then had the honor of introducing more than 60 of his classmates, as well as a widow, a son, and a daughter of classmates who have passed.
Not only does the class include Hall of Fame athletes, three are members of the Board of Trustees (Joe Barnette, Cumming, and Fred Ruebeck) and another, Aus Brooks (pictured left), taught biology at the College for over 40 years.
President White presented each of them a medallion while the crowd applauded each for the honor they've brought to their alma mater.
"You come together this weekend to see again the men in your class who were — and still are — your teachers, your models for conduct and for what it means to lead the good life," said the President. "You honor their influence on your lives and realize that however far you have traveled, however many years have passed, you are tonight young again. You are what you have always been since you stepped on this campus: a Wabash man."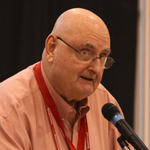 After each member of the Class of 1961 received their medallions from the President, Denny Sheridan took to the stage to announce the results of the Class of 1961's 50th Reunion Gift Campaign.
Sheridan thanked his Wabash brothers and their families for their enormous generosity, then handed President White a giant check — giant in many ways — for more than $4.7 million. More than 70 percent of Sheridan's classmates made a gift to the effort, which Annual Fund Director Joe Klen believes is likely a record.
Still reeling from the size of the check — in terms of dollars given to the College — President White thanked the men and women whose gifts will change the lives of young men for generations.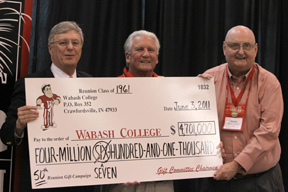 "I thank the class of 1961 for this wonderful gift, for the loyalty it represents, and even more for what it means for our students," President White said.
"For their dreams of the future of the College are made bolder and more ambitious through this gift. We call our current capital campaign the Challenge of Excellence because we recognize the challenge we pose to one another is always the challenge to be excellent. Through your generosity, men of the Class of 61 and all of you, the College and the dreams Wabash makes possible will endure and thrive long after we are gone."