Baseball Wins First Tourney Game
by Jim Amidon • May 19, 2011

Share: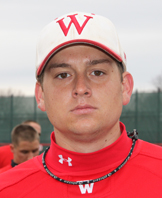 The Wabash College baseball team rode the winning effort of senior pitcher Brian Van Duyn en route to a 9-3 win over top-seeded Christopher Newport on the second day of the NCAA Division III South Regional.
View photos taken by Nancy Coggins
here
.
The victory is Wabash's first ever in the NCAA playoffs. The Little Giants qualified for the tournament by winning the North Coast Athletic Conference championship behind NCAC Player of the Year John Holm.
Van Duyn (right) pitched a complete game, giving up eight hits and three runs while striking out four batters.
The Captains touched him for a pair of runs in the fifth, but only after Wabash had raced out to an eight-run lead.
"Brian had a fantastic game," Wabash Head Coach Cory Stevens said. "He has pitched two great games in back-to-back performances in his last two starts. He went 8-2/3 innings in the NCAC tournament and then today's complete game.
"He battled and wanted the ball every inning. We kept asking him how he felt and he said he was ready to go every time. Having a pitcher who wants the ball like that is tremendous."
"This feels great," Van Duyn said. "It's great just having the opportunity to play in the Regional and face really good competition. Ever since the Denison game three weeks ago I've really developed my change up. It's really been working well ever since. I haven't thrown it a lot, but it's just been that little difference maker that's helped me get through more than two or three times through a lineup. My control has also been better too."
The Little Giants scored four runs in the third and four more in the fourth to put the game out of reach. Wabash had 17 hits to eliminate the Captains, who finished the year 39-7.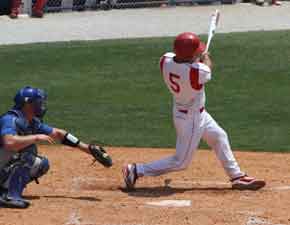 Senior catcher P.J. Tyson
(left)
had a three-run triple in the third inning and finished the game with three hits and four RBI.
John Pennington had three hits and scored twice, while Chris Deig, John Holm, Montana Timmons, and Joe Johnson all had two hits. Every player in the lineup had at least one hit.
Wabash, now 22-21 on the year, will play Friday afternoon at 4:30 p.m. (Eastern Time) in the double elimination tournament against Salisbury.