Challenge Passes $40 Million
by Jim Amidon • May 17, 2011

Share:
Launched publicly at the end of October, the Wabash College Challenge of Excellence has surpassed $40 million, President Patrick White and campaign co-chairs Allan Anderson '65 and Ted Grossnickle '73 announced Saturday.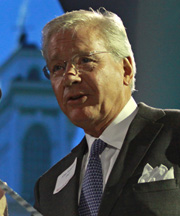 The three-year campaign to generate funds in support of scholarships, faculty development, international learning opportunities, and programs to enhance career preparation has a goal of $60 million.
"We're in a great position right now," said Anderson (pictured right). "We've surpassed our benchmark ahead of schedule, which tells all of us involved in the effort that our central focus with the Challenge of Excellence — Wabash students and faculty — resonates with our alumni and friends."
Almost $5 million has been raised since early November. According to Dean for Advancement Joe Emmick '92, gifts to the
Challenge of Excellence
have been wide-ranging.
"We announced the Challenge of Excellence in October and after just five months in a public campaign, alumni, friends, faculty, staff, and foundations have made possible a range of new endowed scholarships, four additional study abroad opportunities, a freshman tutorial summer immersion trip, equipment funds for Hays Hall, nearly 30 summer internships, and funds to ensure we attract and retain the best teachers possible. This is what makes Wabash distinct — individual alumni and their families making meaningful philanthropic gifts to support opportunities for our students and faculty."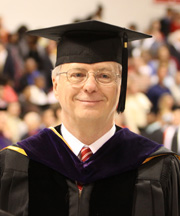 President White
(pictured left)
, along with campaign volunteers, has spent the spring engaging alumni in the goals of the Challenge of Excellence.
"As I have traveled around the country and talked with alumni and friends of the College, I am amazed by their depth of interest in what we're working to accomplish," said the President. "Most campaigns focus on large brick and mortar projects — buildings. Our alumni and friends realize that in this effort, we're supporting the most essential work of Wabash, and enhancing possibilities for students and faculty to reach farther and dream bigger dreams."
Grossnickle '73 said momentum is clearly on the College's side, and he credits the
campaign's alumni leaders
who help make the case for Wabash.
"This campaign's volunteers are doing a terrific job," Grossnickle said. "They do their homework, reach out to alumni and friends, and they represent Wabash with integrity. I'm very proud of them."
Commitments to date total $40,250,000. Much of the growth of the Challenge's total has come from significant contributions from across the alumni body, something that makes the alumni association president proud.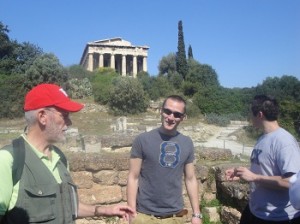 "All 25 board members of the National Association of Wabash Men have made significant financial commitments to the Challenge of Excellence, backing up their already-substantial commitments of time and talent," said new NAWM President Greg Castanias '87. "We wanted to lead effectively by example, in the hope that all of our alumni will rise to the same challenge."
Key commitments to the Challenge of Excellence since its public launch support all four areas of focus outlined in the
Case Statement
. Dean Emmick described the gifts and pledges as coming from a range or sources — individual alumni and their families, friends of the College, and foundations. Examples include:
• Gifts to the Challenge of Excellence established the
William C. Placher Fund for Faculty Support
, a growing $5 million fund that honors the memory of Dr. Bill Placher '70. The Fund will enable the College to enhance faculty salaries, making it more competitive in hiring and retaining excellent teachers.
• Alumnus David Kendall '66, a Rhodes Scholar and Washington, D.C. attorney, has endowed a scholarship for students from small communities like his own hometown of Sheridan, Indiana.
• A commitment to the Challenge of Excellence by a member of the Board of Trustees, who wishes to remain anonymous, provides four new study abroad opportunities each year at the University of Harlaxton in England.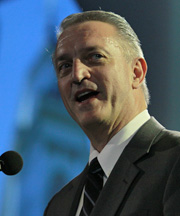 • Emeritus Trustee Dudley Burgess '64, his wife, Judy, and their sons have established the
Burgess Family Scholarship
, which will be awarded to teacher education students in their junior and senior years.
• Private foundations have been generous to the campaign as well. A $750,000 grant from The Andrew W. Mellon Foundation will fund a collaborative
Asian Studies Program
with DePauw, and a $250,000 grant from the Arthur Vining Davis Foundations is supporting new
student retention programs
.
Grossnickle (pictured right) explained why he and his wife — and scores of the College's alumni and friends — are dedicated to the Challenge of Excellence.
"Marcia and I have decided to support this campaign generously because we believe in its goals, and we believe that Wabash is on the right course for the future."