173rd Commencement is Sunday
• May 10, 2011

Share:
One hundred seventy-two men will receive sheepskin diplomas at Wabash College's 173rd Commencement Ceremony on Sunday, May 15. The proceedings will be held on the College Mall and begin at 2:30 p.m.
Wabash President Patrick E. White will preside over the ceremony. He will also "ring out" the Class of 2011 with the very same hand bell used by Caleb Mills to call the first Wabash students to class more than 175 years ago.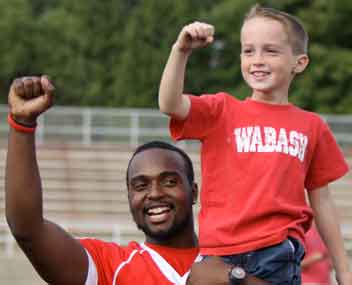 In keeping with long-standing tradition, only graduating seniors will give remarks at the Commencement Ceremony. Indianapolis native Deonte Singfield and Crawfordsville native Jacob Surface were selected by Dean Gary Phillips to present addresses.
Singfield (left), a history major and star football player for the Little Giants, will give a talk entitled "Ding Ding," a reference to the sound of the clanging of the Monon Bell — the trophy in the annual Wabash vs. DePauw football game.
Surface (below right), a political science major who has received a Pickering Graduate Foreign Affairs Fellowship, will give a speech entitled "Our Greatest Strength."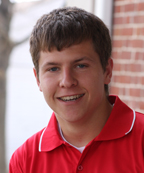 In addition to the awarding of bachelor's degrees to graduating seniors, Wabash will present honorary degrees to Indiana Governor Mitchell E. Daniels, Jr., Wabash alumnus Robert F. Charles '59, and Walter E. Massey, President of the School of the Art Institute of Chicago and Emeritus President of Morehouse College.
Honorary degree recipients will be celebrated at a luncheon with members of the Wabash College Board of Trustees.
Robert F. Charles majored in botany and graduated from Wabash in 1959 before earning a master's degree in horticulture from the University of Arizona. In 1965, he moved to Boulder Colorado, where he began a successful career as a McDonald's franchisee — owning 13 restaurants and developing the Happy Meal, the two-line drive-through, and paper tray liners to promote promotions and community activities. He founded the Ronald McDonald House in Denver, and has been a supporter of dozens of non-profits ranging from youth programs, social services, healthcare, and education. He has been honored for his service to the University of Colorado-Boulder, University of Arizona, and Wabash College.
Mitchell E. Daniels, Jr. has served in government for 40 years, beginning in 1971 as an aide to then-Mayor of Indianapolis Richard Lugar and rising to become Indiana's 49th governor. He moved with Senator Lugar to Washington and worked as his administrative assistant. He would later serve on President Ronald Reagan's White House staff as Chief Political Advisor, and was Director of the Office of Management and Budget for President George W. Bush. An attorney, Governor Daniels also served as Chief Operating Officer of the Hudson Institute and later as President of Eli Lilly's North American Pharmaceutical Operations.
Walter E. Massey is the President of the School of the Art Institute of Chicago and is the President Emeritus of Morehouse College in Atlanta. He has also served as Provost and Senior Vice President for Academic Affairs of the University of California system, Professor of Physics and Dean of the College at Brown University, and Professor of Physics at the University of Chicago. As a physicist, he directed the Argonne National Laboratory and the National Science Foundation. He has served on scores of non-profit and corporate boards, including as Chairman of the Board of Bank of America and trustee of The Andrew W. Mellon Foundation.
Commencement Day activities begin with the Baccalaureate Service at 11 a.m. in the Pioneer Chapel on the Wabash campus. Wabash Board of Trustees Chairman Stephen S. Bowen '68 will give morning prayers. Christopher L. Coble '85, who is the Religion Program Director of Lilly Endowment Inc., will give the Baccalaureate Sermon.
Following the Commencement Ceremony, President White and his wife, Chris, will host a reception in honor of the graduates, their families, and the honorary degree recipients.