Wabash Celebrates 1832 Society
• May 4, 2011

Share: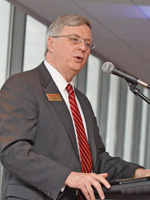 President Pat White thanked members of the College's leadership giving circle, the 1832 Society, Sunday by telling stories of three students whose lives have been transformed by the education and experiences they've received at Wabash.
Micah Lembke, Filip Lempa, and Nathan Line, the president said, have accomplished things they never dreamed possible when they enrolled here from Griswold, Iowa, Poland, and Crawfordsville, respectively. "These guys took advantage of all the opportunities Wabash provides — made possible by your gifts to the College — and they will leave here as absolute world-beaters," President White said.
The annual gathering of the 1832 Society was held at D'Amore on the 48th floor of the Chase Tower in downtown Indianapolis. Long-time Trustee Joseph D. Barnette '61 served as master of ceremonies.
See photos from the event here.
"This is an important event that recognizes your philanthropic leadership of Wabash College," Barnette told the assembled crowd.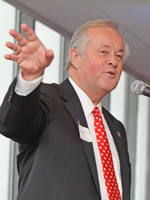 "Your annual generosity demonstrates your belief in the good work that takes place at Wabash each day and your trust in the College's mission… Leading effectively is an integral part of the College's mission and each of you in this room models effective leadership for our students — and for future generations of Wabash men."
The 1832 Society comprises alumni, faculty, staff, and friends of the College who make gifts of $1000 or more each year. Approximately 750 families support the College at the leadership level annually.
Dan Rogers, Associate Professor of Modern Languages and Chair of the Department, gave the keynote address.
Professor Rogers had the audience engaged in his remarks, which he entitled "The Secret Lives of PhD's." Rogers quipped that when his wife, Jill learned of the title, she responded by saying, "I have known a lot of PhDs and if they do have secret lives, I'm sure they aren't that interesting. On the other hand, the good news is that you are giving an after-dinner speech and so it won't be too long."
Rogers got more serious when he spoke in glowing terms of the faculty who, with him, came to the College in 1998. Included in that cohort of then-new faculty were chemistry professors Scott Feller and Ann Taylor, rhetoric professor Todd McDorman, and physics professor Dennis Krause. He likened each of them to legendary professors through the ages, quoting Byron Trippet.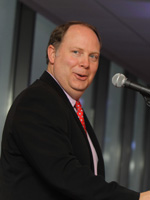 "[One] thing that comes through loud and clear in Trippet's book [
Wabash on My Mind
] is that many if not most of our best beloved faculty chose to stay at the College. William Norwood Brigance could've taught anywhere, but he chose Wabash. The same could be said of Ben Rogge and Trippet himself. While my colleagues who started back in 1998 have a long way to go before ending up in the next book about the College, they do share a vital link with the faculty who came before them; every single one of them is accomplished enough to teach where they like, but they choose Wabash."
Indeed, all five of those professors are well on their way to legendary status, for example Dr. Feller was recently named Lloyd "Doc" Howell Chair in Chemistry and Dr. Taylor holds the Haines Chair in Biochemistry.
"I remember asking Bill Placher once why he had stayed at Wabash and he answered simply that Wabash was where he belonged," Professor Rogers said. "All of us leaving graduate school make a kind of choice. On the one hand you can choose to teach at a large research university where if you are a biologist, for example, your job first and foremost will be to teach graduate students through your research. This can be a very gratifying way to spend a career I am sure, but it is categorically different from what we do at Wabash College. To be sure, a political scientist or historian at Wabash may steer some students to graduate school in their respective fields, but the mission is more broadly conceived. I know that some might disagree, but I think that in the end, the best Wabash professors choose students over their own disciplines. And while the two are not necessarily mutually exclusive, the most successful professors I have known understand that Wabash College's first, best destiny is to develop young men."
Director of Annual Giving Joe Klen '97 said the 1832 Society dinner celebrates the link between the tradition of philanthropic leadership and the opportunities for students and faculty such giving provides.
"Dan's remarks reinforce the strength of Wabash faculty and faculty-student interactions," Klen added. "His comments also validate the place of the Challenge of Excellence at this time in the College's history and the need for all alumni and friends to play a role in supporting the four initiatives of this major fundraising campaign, which focus keenly on enhancing the student-faculty experience."