Tennis Scores Final Home Victory
by Brent Harris • April 19, 2011

Share: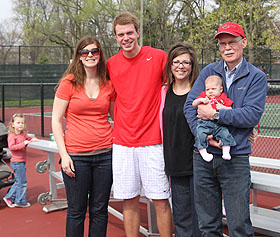 Senior Ricky Ritter played his final home tennis match Monday afternoon, earning two victories in the Little Giants' 9-0 win over Central State University. Freshman Wade Miller recorded a golden match win, taking every point at number three singles.
Ritter and Peter Gunderman blanked their opponents at number two doubles by a score of 8-0 for the first point of the match. Miller and Daniel Delgado captured an 8-3 win at number one doubles.
Miller cruised through his match at number three singles, scoring on every serve. Ritter won 6-0, 6-0 at number four singles, while Zach Lowry was a 6-1, 6-1 winner at number one singles. Gunderman added a 6-0, 6-0 win at number two singles.
Phil Kubisz and Evan Bayless received a victory by forfeit at number three doubles, while Kubisz and Nate Koelper won by forfeit at number five and six singles.
Photo - Senior tennis player Ricky Ritter and his family prior to the final home match of his Wabash career.
Game Stats