Walks Doom Wabash in 13-2 Loss at Butler
by Brent Harris • March 30, 2011

Share:
Wabash nearly matched Division I Butler University hit for hit on Wednesday afternoon, but the Little Giants surrendered 15 walks in a 13-2 loss to the Bulldogs.
The Little Giants finished the game with 10 hits compared to 14 for Butler (10-10). However, Wabash could not find a key hit throughout much of the game, stranding a total of 10 base runners. The Bulldogs left 15 runners on base over eight innings.
Andrew Swart took the loss for the Little Giants, falling to 3-3 for the year. He worked the first two innings of the game, allowing one run on two hits with two walks and two strikeouts. A total of seven Wabash pitchers combined for 14 hits along with the 15 walks.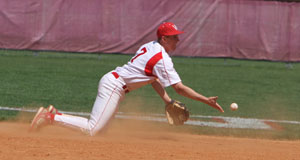 John Pennington (left) and Chris Deig each had two hits in the starting lineup, while sophomore Robby Hechinger collected hits in each of his two trips to the plate after coming off the bench in the sixth. David Seibel and Joe Johnson each had RBI for Wabash in the loss.
Wabash (8-14, 1-1 NCAC) returns to conference action this weekend with four North Coast Athletic Conference games. The Little Giants will play two seven-inning contests against Oberlin on Saturday at Wabash Ballpark, followed by two more seven-inning game against Ohio Wesleyan on Sunday.
Game Stats