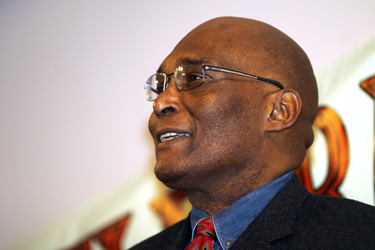 The brothers of the Malcolm X Institute of Black Studies kicked off the organization's 40th anniversary celebration on Saturday with a dinner featuring a keynote address from co-founder Keith Nelson and concluding with Wabash President Pat White's announcement that the Institute's next director will also be an associate or assistant dean of the College.
The student-organized and funded event in Detchon International Hall was the first in a series of activities that will lead up to the Anniversary Gala on September 17 as the College celebrates the life and the history of the MXIBS.
"I'm really honored to be here to be at home, with my family," Nelson told the more than 100 guests at the event. "For me and for many of the men and ladies here, the Malcolm X Institute of Black Studies has been part of our Wabash home, and an important part of our family."
Senior Wes Chamblee presented the Horace Turner Leadership Award to Associate Dean and Professor of Philosophy Cheryl Hughes.
Dean of the College Gary Phillips noted that 40 was a particularly significant anniversary.
"Those of you who study religion know that 40 is a sacred number, even a holy number," Phillips said, citing numerous examples, including Muhammed's being 40 years old when he received his call to ministry.
"What can we expect in the next 40 years?" Phillips asked. "For myself, I hope for an MXI that leads the College in attracting men of quality and character to lead men of all nations and ethnicities and faiths and backgrounds.
"I hope for an MXI that leads and teaches and helps and has faith. And I hope above all for an MXI that galvanizes this community to keep the promise of its own liberal arts mission, that prepares all of us for a life lived in recognition that we are united by more than tradition and language and gender and nationality and color, that we are responsible to one another—as Malcolm preached, Jesus taught, and Abraham led—that elevates our humanity and encourages us to make lives for one another.
"On this 40th anniversary I invite us not to think so much of how times have changed, but of the men and women who have changed the times, and that includes all of us in this room, no matter our age or station," President White said. "For to be fully alive in our times, we need to be not just passive before the changes around us, but we need to be creating those changes.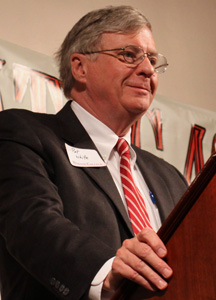 "I praise all of you here, for you have made the MXIBS what it is today, and by extension what it will be—for the work is not done."
White told guests that the College is seeking a new director of the MXIBS.
"This person will also have the title of associate or assistant dean of the College, working with Dean Phillips and me to make the Malcolm X Institute an ever more vital part of the success of our students, faculty, alumni, and staff. I look forward to our work together.
"There are few 40-year old institutions that look as good, or as proud, as the MXI looks tonight," White concluded. "We will be even stronger in the years ahead."
See photo albums from the kick-off celebration here, here, and here.