Slow Start Leads to 10-3 Wabash Loss
by Brent Harris • March 8, 2011

Share:
The Little Giants surrendered five runs in the first inning and were never able to recover, eventually losing 10-3 to Claremont-Mudd-Scripps Tuesday afternoon in California.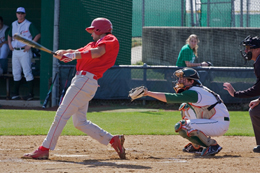 The Stags scored five times in the opening frame on only two hits. Wabash starter Luke Holm struggled with his control, walking four batters in 2/3 of an inning. He was credited with all five earned runs along with one strikeout and two hits. Eric Foust worked five innings of relief, giving up five runs on six hits with a walk and four strikeouts. JT Miller threw 2-1/3 innings of shutout baseball, scattering two hits and walk to go with three strikeouts.
Joe Johnson and PJ Tyson provided most of the offensive firepower for the Little Giants. Tyson reached on a two-out single in the fifth inning, moving to third on a double by David Seibel. Johnson (above right) singled home Tyson and Seibel to make it a 6-2 contest. Tyson added another single in the seventh, eventually scoring when freshman Casey Shipley picked up his first career RBI on a one-out single. John Holm and Brian Lares each had a hit for the Little Giants, who finished with seven total compared to 10 by Claremont-Mudd-Scripps (5-10).
Wabash returns to action Wednesday afternoon with a single nine-inning game at Cal Lutheran.
Game Stats