Birrer, Rhinesmith Ready To Return to Nationals
by Brent Harris • March 4, 2011

Share:
The two-week wait is over for senior swimmers David Birrer and Evan Rhinesmith. The duo learned they will return to the NCAA Division III National Championship this year after the uncut psych sheet was released on Friday.
Birrer and Rhinesmith both competed at last year's national meet. Both were less than a second away from earning All-America honors and competing in the finals of their individual events.
This year they will head to Knoxville, Tennessee to compete from March 23-26 knowing their times are among the best in the nation. Rhinesmith's qualifying time of 56.47 is eighth-fastest in the 100-yard breaststroke, while Birrer has the eighth-quickest qualifying time in the 200 butterfly (1:51.32).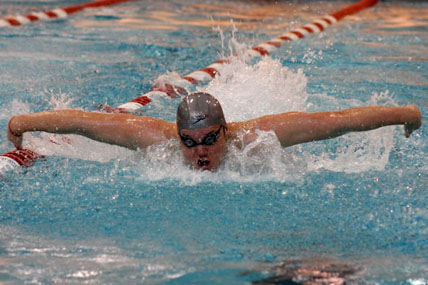 "I've put in a lot of extra time this year in both the weight room and the pool area, so it's nice to see one level of it coming to fruition," Birrer (right) said. "I'm definitely excited. The basketball team's motto this year was 'Unfinished Business' and I felt that was an appropriate theme for me this year too. I went to nationals last year and just missed scoring. Now it's about going this year and scoring both for myself and for Wabash. The program deserves to have some recognition on the national level. Hopefully Evan and I can bring that this year."
Birrer and Rhinesmith hope to become the first Wabash swimmers to earn All-America honors since Tony Caldwell and Adam Petro both accomplished the feat at the 2007 national championship meet.
"I took a week off after last year's season came to an end," Rhinesmith said. "I haven't taken a break from training and preparing since then. It's literally been one year almost to the day that I've been working to get back to nationals. It's a relief to know that I made the field but I'm pretty excited too."
Head Coach Steve Barnes believes the hard work of both swimmers has prepared them for their last collegiate competition.
"I think making the meet speaks to the hard work David and Evan did in the off season and what they did early in the season," Barnes said. "We haven't really gone through a full taper yet, so they've really done a great job preparing themselves for this meet. A lot of their success comes from their mental approach to the sport. They came in as good swimmers, but not as national calibre guys. They've really grabbed hold of the program from day one and set themselves up for success. They've set goals that for some people would have seemed unrealistic. In their minds, however, they were very realistic goals and they've done everything to accomplish them. That's not something a lot of young men are able to do very well."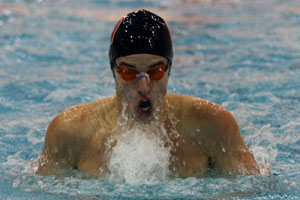 Birrer is ready to use the experience of last year's meet when he competes again at nationals in less than three weeks.
"I go in with a lot more understanding of what it takes to be successful this year," Birrer said. "Last year was a little bit of the deer in the headlights look. 'I'm on the national stage, what do I do now.' This year I know what to expect. I'm much more focused. I'm a year older and wiser and I've done this before. It's just another meet now where I can finally try to reach some of those goals that I've set for myself."
Rhinesmith (above left) knows the competition will be tough, but relishes the idea of swimming against the best athletes in the nation.
"Just looking at the psych sheet there is less than a second difference between first and 16th place in the 100 breaststroke," Rhinesmith said. "It will be a tight race. Even guys who will be competing in that as a bonus event have good times. I wouldn't be surprised to see eight different schools represented in the final eight finishers in the event. It's going to be a tight race but it's also going to be a lot of fun. And it will be a lot of fast swimming throughout the entire meet."