Metzelaars To Join Academic All-America Hall of Fame
by Brent Harris • March 3, 2011

Share: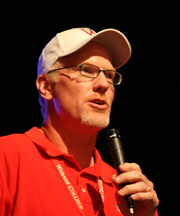 Pete Metzelaars '82, along with four other former Academic All-America student-athletes, will be inducted into the Capital One Academic All-America® Hall of Fame as selected by the College Sports Information Directors of America (CoSIDA) in June.
Dr. Carol Lally Shields (University of Notre Dame 1979), Dr. Randal Pinkett (Rutgers University 1994), Dr. Julie Bremner Romias (The University of California Los Angeles), and Dr. Megan Neyer (University of Florida, 1986) will join Metzelaars as inductees into the Capital One Academic All-America Hall of Fame. The five honorees will join 112 previous inductees as members of the Hall of Fame, which was created in 1988. The ceremony will take place on June 28 at CoSIDA's annual workshop, to be held in Marco Island, Florida.
"The Capital One Academic All-America Hall of Fame truly represents the 'Best of the Best' and the Class of 2011 truly lives up to this moniker," Larry Dougherty, Temple University Associate Athletics Director and 2010-11 CoSIDA President said. "Not only did these five individuals perform at the highest level — both in their sports as well as in the classroom — as student-athletes at their respective institutions, but they have gone on to continue to excel in their chosen fields and within their communities. It is with great pride that CoSIDA honors them as the newest members of the Capital One Academic All-America Hall of Fame."
Metzelaars excelled in both football and basketball during his four seasons at Wabash College. As a senior, he led Wabash to the NCAA Division III Men's Basketball National Championship while earning Tournament MVP and National Player of the Year honors. He set the NCAA Division III record for career field goal percentage (72.4 percent), which is still second in the current Division III record book and fourth in all NCAA divisions of college basketball. Metzelaars ranks second on the Wabash all-time scoring list with 1,976 points and holds the all-time record for rebounds with 1,176. He is the only player in Little Giant history with more than 1,000 career boards. His 370 rebounds as a senior is a Wabash single-season record.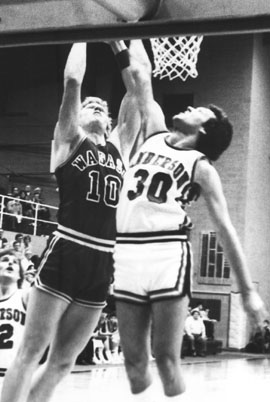 Metzelaars also starred in football, where he earned Kodak Small College All-America honors in 1981. He caught 77 passes for a total of 1,196 yards and nine touchdowns as a tight end, helping Wabash to a record of 32-3-1 during his career. He ranks in the top-30 in Little Giant football history in receptions, receiving yards, and touchdown catches. He was inducted into the Wabash Athletics Hall of Fame in 1988.
Metzelaars graduated from Wabash in 1982 as an economics major. He was named to the 1981-82 CoSIDA Academic All-America Men's College Division Honorable Mention team with a 3.34 grade point average.
Drafted by the Seattle Seahawks in 1982 in the third round of the NFL draft, Metzelaars would go on to play 16 seasons in the league with Seattle, Buffalo, Carolina, and Detroit. He played in four Super Bowls with Buffalo Bills, setting the club's record for pass receptions by a tight end with 302, which also ranks sixth on the all-time Bills' receptions list. He played in 235 games during his pro career, setting the NFL record for most games played by a tight end. Metzelaars was named to the Buffalo Bills' 50th Anniversary team in 2009. He was three-time Pro Bowl alternate, caught a touchdown pass in Super Bowl XXVI against the Washington Redskins, and caught the first touchdown pass in Carolina Panthers football history.
After retiring from the NFL at the end of the 1997 season, Metzelaars began his coaching career working with the Charlotte Christian School. He spent five seasons as a high school assistant coach while also working as a youth pastor in the church. In 2003 he was accepted into the NFL Europe coaching internship program. He spent the summer of the 2003 season with the Indianapolis Colts at the team's training camp before heading to Spain to work with the Barcelona Dragons. He also worked with Wingate University as an assistant coach during the 2003 season.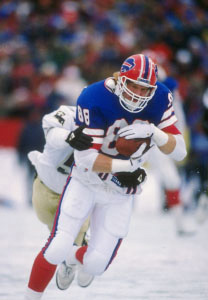 Metzelaars returned to the NFL as a coach, taking a position with the Indianapolis Colts as the team's offensive quality control coach in 2004. He was elevated to assistant offensive line coach in 2008 and was named the Colts' offensive line coach in 2010. He was part of the Colts' staff that guided the team to Super Bowls XLI and XLIV, adding a Super Bowl championship title to his coaching resume in 2007.

Metzelaars and his family have been active in their various communities. He and his wife, Barbara, were named the 1995 Western New York Citizens of the Year for their charitable work in the Buffalo area. They currently work with Life Centers in Indianapolis, where Barbara serves as the nursing director for the Center.

The Capital One Academic All-America® Hall of Fame as selected by CoSIDA was established to honor former college student-athletes who have excelled in their professions and made substantial contributions to their community. To be eligible for the Hall of Fame, a candidate must have been an Academic All-America team member who graduated at least ten year prior to nomination.




For more information see: