The Circus is Coming to Town
• February 24, 2011

Share:
The Wabash College Visiting Artists Series is pleased to welcome Circo Aereo for an 8 p.m. performance on Tuesday, March 1 in Ball Theater of the Fine Arts Center. Tickets are free, but should be reserved in advance through the
box office
.
Circo Aereo is an international contemporary circus group from Finland, which frequently performs around the world. Active since 1996, the group has visited several distinguished festivals and theaters in over 20 countries. Circo Aereo's barrier-breaking and open approach to the various forms of the performing arts mesmerizes and astonishes audiences around the world.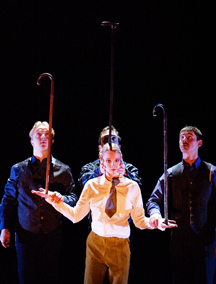 Circo Aereo's extensive production includes an array of very different works. While at Wabash, the group will perform Espresso, a co-production between Circo Aereo and the French Les Objets Volants group, which premiered in 2006. Espresso is a combination of traditional circus art, cabaret and contemporary circus based on movement, Espresso is one of Circo Aereo's biggest successes.
After its premiere, Espresso has successfully toured several countries, visiting the renowned Parc de la Villette in Paris, France, Theatre du Vidy in Switzerland and the Damascus Opera in Syria.
Circo Aereo's
projects are characterized by artistic exploration in all aspects of the performance and the collective input of the entire artistic workgroup.
Working in the field of circus as well as object and movement theater, dance and music, the group has been invited to perform at a number of circus, dance, music, and theater festivals. Produced with a human touch and on a human scale, its performances aim to get close to the audience and their emotions. Indeed, communication with the audience and the creation of unique experiences are fundamental values for the group. Circo Aereo's understated but highly charged style embodies a search for the quintessential and a careful selection of the ways of expression.
In the past few years, Circo Aereo has also been involved in workshops for circus schools and circus artists, audience work and education projects and cooperation with the business world.
Patrons can reserve tickets
by email
or by calling the box office at 765-361-6411.