Petty's Name Now Permanent Fixture
by Howard Hewitt • February 19, 2011

Share:
Mac Petty's name will stay atop Wabash College coaching records for years to come and on the Chadwick Court floor much longer. The College named the basketball floor for the retiring 35-year coach after a 72-42 regular-season ending win over Oberlin College.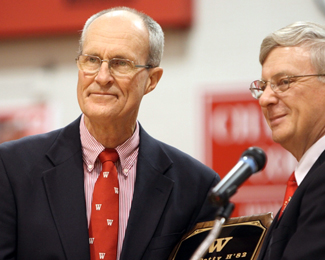 Petty, who came to Wabash in 1976, will retire at season's end, bringing to a close a 40-year career that featured 496 Wabash wins and a 1982 Division III National Championship.
"The measure of an institution is how they celebrate and make permanent the importance of one man's contributions," Athletic Director Tom Bambrey said. And with that Bambrey announced permanent lettering will go down to name Chadwick Court's floor the Mac Petty floor for years to come.
Former players were plentiful Saturday to help celebrate Petty's 35 years of coaching and guiding Wabash men. Students celebrated wildly during the game and the post-game ceremonies honoring "Mac."
"You're in the hearts of all us and will be forever," President Patrick White said. The President then presented Petty with a plaque for his years of service.
The festivities began with the College honoring Mac's wife Gloria for her 35 years standing by her husband's side and being an integral part of Wabash College. She received 38 red roses, one for each year Petty has coached, with one large white carnation in the middle representing the national championship.
Student's serenaded Mrs. Petty with "Glor-i-a, Glor-i-a."
For Petty, it was overwhelming at times. "I'm embarrassed and can't believe this is happening," he told the crowd.
The University of Tennessee graduate used words like 'mind boggling' and 'overwhelmed' throughout his remarks.
"I can't thank everybody because I'd miss someone," he said, "and because I've been here so long. All I can say is thank you."
With many members of his family looking on, Petty thanked Crawfordsville and the Montgomery County community for being such a great place to raise his family.
And in typical Petty fashion, Mac turned attention away from himself in closing and put the focus back on his team.
"The only thing I know … the most important thing in my heart right now … is we have unfinished business," he said to an approving roar. "I appreciate this, but basketball is my love, these guys (motioning to his team, all smiles, watching on) are my love, Tuesday night's game is my love."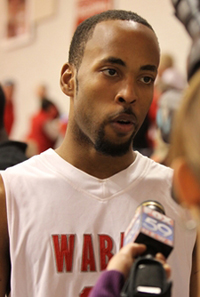 Saturday was simply Mac's last regular-season game. The 19-5 Little Giants will be home Tuesday night to open NCAC play.
The win over Oberlin was never in doubt. Petty, as in previous years, started all seniors Saturday afternoon. Wes Smith, Ben Burkett, Dominique Thomas, Andrew Gilman, and guard Kenneth Taylor opened the game. The Little Giants raced to a 24-5 lead to make sure the celebratory mood was established from the start.
Students kept themselves entertained chanting for Mac, occasionally for a few favorite Yeoman, and singing everything from Happy Birthday to Neil Diamond.
Wes Smith finished his regular season career with a 27-point afternoon. Junior Derek Bailey added 12 and Burkett scored 11. No player reached double figures for the 2-24 Yeoman.
Wabash earned the number-three seed in the upcoming NCAC Tournament and will play Kenyon College (#6) at 7:30 p.m. on Tuesday at Chadwick Court.
At left, Wes Smith talks to one of two Indianapolis television stations on hand to cover Coach Mac Petty's last regular-season games.
Watch a feature on WXIN Fox 59 about Coach Petty's retirement by clicking here.